poehere
Bronze Post Medal for All Time! 105 Posts
August 17, 2017
1

found this helpful
Normally green pepper plants have white flowers. The plants are still too young to have flowers. You need to grow them up more and make them stronger.
To make them stronger wait a little bit longer. Then cut off the top of the plant. This entices the plant to give new growth and makes the trunk of the plant stronger.
You need to put these plants in a larger pot. The plant only needs watering when the soil is really dry. During the winter months keep trimming the branches of your plants from time to time. The larger the plant, the healthier it is to produce and support green peppers.
To pollinate your pepper plants they need to be in a windy area. The wind pollinates the plant. If you don't have wind and see the new flowers on the plant, just give the plant a small shaking. This will pollinate the plant to produce peppers. Don't shake it too hard.
I grow a lot of pepper plants in Tahiti in our organic garden. The first year I started to grow peppers I made the mistake of letting the flowers turn to peppers. This was bad for my plants because they were too young and couldn't support the peppers. I ended up cutting the plants down and letting them grow stronger. For the first flowering I removed the flowers and didn't let them produce more pepper. Once my trunk of the plant was larger and stronger I then let the flowers produce pepper.
Hope this helps.

Judy
Gold Post Medal for All Time! 677 Posts
August 17, 2017
0

found this helpful
I don't know where you live. I'm in NY and am starting to get my peppers now. You do get a flower first. I fertilize with Miracle-Gro weekly.

August 17, 2017
1

found this helpful
You say you "think" these are green pepper plants so maybe someone gave them to you and you may not know the age of the plants.
I believe you should try moving them to a 5 gallon container as your pots look too small for a full grown pepper plant.
Growing peppers is not difficult but they do require sun light every day and water frequently.
There are several reasons your peppers do not have flowers (besides age) - here is a link that explains about this that might help you.
www.gardeningknowhow.com/.../pepper-blossoms-falling-off.htm

September 2, 2017
0

found this helpful
My pepper plants still do not have any flowers, I have cut the top off and give it a little shake now and again. So why no flowers?? Am I too late in the season, will the plant get thru the fall and winter, should I bring it indoors----------what can I do ??

September 24, 2017
1

found this helpful
I have re-potted my plants to a larger container, as was advised to do. Also cut back the top of the plants and give them a little shake now and again.
I have done all that was advised but did not get white flowers. I'm getting YELLOW flowers. So is this a Green Pepper plant?
And am I too late in the season to get fruit. Almost the end of September 2017.
And do I need to bring it indoors?
Thank you for any advice.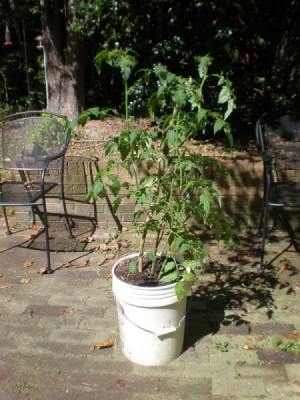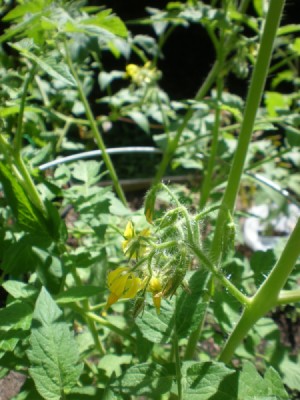 Jess
Silver Post Medal for All Time! 267 Posts
September 25, 2017
0

found this helpful
That looks like a tomato plant to me. It's getting pretty late in the season for either pepper or tomato plants but if the weather stays nice, you might get some fruit. I would leave it outside as long as possible.

November 6, 2017
0

found this helpful
This is a tomato plant.. Not pepper.. :)

October 28, 2017
0

found this helpful
These were not Green Peppers plants, turns out they are Cherry Tomatoes AND they have the pretties little green tomatoes you would want to see. The only trouble is, they are still green, am I to late in the year for them to ripen and get red ??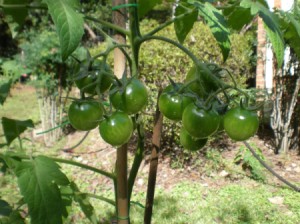 Jess
Silver Post Medal for All Time! 267 Posts
October 30, 2017
0

found this helpful
You can bring them inside and allow them to ripen in your garage or somewhere dark and cool. I have taken my unripe tomatoes and hung the entire plant upside down in my garage. I have also packed them in a cardboard box with newspaper. They have ripened either way. I remember that I still had some tomatoes around Christmastime.
Good luck, they look so pretty and will taste wonderful when ripe.