EllenB
Gold Post Medal for All Time! 858 Posts
Have you ever wondered how people grow those gigantic vegetables that you see at the county fair? You've seen them-the scale crushing pumpkins that weigh in at 1,000 pounds, the 6 pound carrots and the cabbage heads twice the size of basketballs. Growing these giant beauties isn't as hard as you might think. If you want to impress your neighbors by having the biggest veggies on the block, here are a few tricks that will get you BIG results.
Select Giant Varieties
Planting seeds of a large-fruited variety will get you large fruits (under the ideal conditions). Sure, there are ways to coax those standard-sized corn stalks to grow taller than usual, but you'll never reach the really BIG leagues unless you start with the proper seeds. When selecting seeds, look for the words "large," "big," "giant" or "mammoth" in the name or description. Those are the varieties of seeds genetically programmed to give you monster results.
Cultivate Growth Carefully
Make sure you remove any obstacles that could prevent your plants from optimal growth. Protect them from frost, weather extremes and damage from pests. Even a day or two of stress can put a temporary halt to growth while the plant waits for better conditions. This is especially true when it comes to a lack of water.
Always keep the soil evenly moist during the growing periods. Stress-free plants are more likely to reach their potential if they can focus solely on growth. As the plants get bigger, you'll need to give them extra support to keep from becoming damaged from moisture or from the weight of their fruit.
Feed Them Well
Start with fertile soil that contains the nutrient requirements the plants need. Have your soil tested and amend it with good quality organic nutrients as necessary. Pay attention to the pH. Most garden vegetables grow best in soil with a pH of 6.0 to 6.5. As most plants grow, they remove nutrients from the soil. Keep the soil fertile with a regular regime of water and organic fertilizer.
Feed Them Often
As soon as you see your plants heading into a growth spurt, start a weekly feeding regime of compost tea, fish emulsion or another type of organic fertilizer. You can also side-dress plants with compost or rotted manure to ensure roots get a steady supply of soluble nutrients every time it rains. Genetically gifted plants are voracious eaters and you'll need to feed them more frequently than the rest of the garden.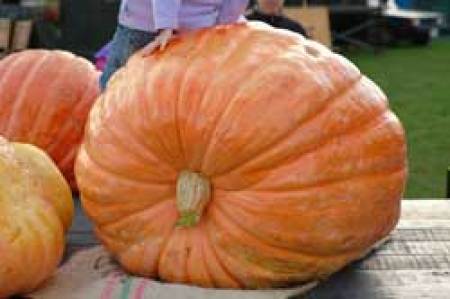 Once you grow a few of these epic vegetables you'll be hooked-and you'll have the BIGGEST vegetables on the block.
Save Only the Best for Biggest
This isn't the way to bigger yields, but it's the only way to bigger fruits. You'll need to remove most of the fruits growing on each plant so all of the energy goes to those that are left. The fewer fruits on each plant, the bigger each will grow. After the plant flowers and fruit starts to grow, deadhead any blooms to prevent new fruit from growing.
Most vegetables are available in "giant" varieties including eggplants, cabbage, watermelon, sunflowers, peppers, pumpkins, squash, tomatoes, carrots, radishes, okra, onions, corn and cantaloupe. Once you grow a few of these epic vegetables you'll be hooked-and you'll have the BIGGEST vegetables on the block.
Read More

Comments