EllenB
Gold Post Medal for All Time! 858 Posts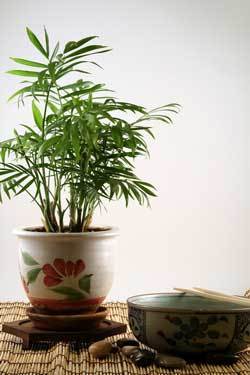 Growing a potted palm as a house plant is a wonderful way to add a bold, tropical focal point to any room in your home. Because of their size, mature palms are one of the most expensive houseplants you can buy. Here's how to protect your investment by keeping yours lush, healthy and green.
Diffuse Their Lighting
Different types of plants have different growing requirements. The same is true of different types of palms. Although some palms are said to be more "shade-tolerant", a barely lit corner of the room will not due). Almost all palms prefer bright, natural sunlight, but they appreciate curtains or blinds that diffuse the light. They need this bright diffused sunlight year round, so placing them in a west or southeast facing window is best. As a rule, palms with thicker, leathery foliage prefer more intense sunlight, while those with thinner, more transparent fronds, like Parlor and Kentia Palms, require less light.
Keep Their Climate Tropical
Temperature:
Don't make the mistake of thinking that indoor palms need dry desert air or temperatures in the nineties to grow well. During the active growing season, palms do best when daytime temperatures are between 70 and 80 °F and nighttime temperatures stay between 55 to 60 °F. In the winter, they prefer the cooler 55 to 60 °F temperatures.
Most palms will suffer damage from cool drafts (from windows and air conditioners) and when temperatures drop below 50ºF. If given time to gradually adjust to the increased light intensity, like other house plants, palms enjoy being moved outdoors in partial shade for the summer.
Humidity:
Palms also love high levels of humidity. Mist their leaves occasionally, especially in hot dry weather or in centrally heated rooms. Other ways to keep the air around palms humid include keeping them grouped near other plants, setting their pots on a tray filled with water and pebbles or placing their pot inside of a larger container and filling the space in between with damp peat.
Don't Drown Them
In general, palms should be kept relatively moist in the spring or summer during their active growing period. This means watering them as soon as the soil feels like it's starting to dry out just below the surface (about _ inch deep). It's important not to let them dry out completely, and it's important not to let them stand in water. No species of palm likes wet feet, so use a soil mix that is porous enough to provide good drainage and never allow the water to stand in the collection tray beneath the pot after it drains.
It's important to know how your specific palm reacts to moisture conditions. A few palms, like Neanthe bella, prefer to dry out between watering. Other palms prefer to be kept moist at all times.
Feed Them Lightly
Compared to other house plants, palms tend to be light feeders. Fertilize them a few times with a diluted liquid fertilizer (fish emulsion) during their active growing period-from late winter through early fall. When fertilizer salts build up in the soil, the tips of the leaves will start to turn brown, so when in doubt as to how much, remember less is always more.
Keep Their Leaves Clean
Keep your palm's fronds clean with an outdoor rain shower, an indoor rinse or by wiping the leaves carefully with a soft, damp cloth. Although palms are generally fairly insect resistant, keeping the fronds clean will go a long way toward preventing insect infestations from the likes of scale, mealy bugs, thrips and spider mites. It will also keep leaves free of dust and able to absorb light properly.
Groom them in the morning so leaves have time to dry out during the day. Avoid using the so-called commercial leaf cleaning products that claim to make your palms leaves shiny. They produce a shine by coating the leaves with a substance that clogs the pores in the stoma and prevents the leaves from transpiring correctly.
Keep Their Roots Confined
Palms do best when their roots are confined and they seldom need repotting. Repot them every two to three years, but only if the roots are filling the pot and disrupting growth or when the pot starts to look way out of balance with the plant. The new pot should only be one or two inches larger in size. The best time to repot is in the spring before the active growing season begins. Watering the palm first will make the transplanting process a lot easier.
Common Palm Problems
The following signs may indicate your palm is in trouble.
Leaves with brown tips:
This is usually a symptom of dry air, under-watering, over-fertilizing or damage caused by cold air or as a result of touching leaves.
Yellowing leaves:
Symptomatic of under-watering.
Leaves with brown spots:
This is often an indication of leaf-spot disease caused by chilling or over-watering. Remove affected foliage by cutting. Occasionally, brown spots will also appear on leaves due to very hard water.
Brown leaves:
Lower leaves brown and droop naturally as the palm grows. Remove them by cutting (not pulling). If the entire plant is displaying brown leaves, the problem may be due to over-watering.
Common Types of Indoor Palms
Because care requirements can vary somewhat depending on the variety, it's best to follow the specific care requirements for the type of palm you're growing. If your not sure what kind of palm you have, start your search by using this list of common indoor palms: parlor palm or Neanthe Bella (Chamaedorea elegans); reed palm (Chamaedorea Seifrizii) and bamboo palm (Chamaedorea erumpens); Kentia or sentry palm (Howea Forsterana); lady palm (Rapis excelsa); Areca palm (Chrysalidocarpus lutescens); Chinese fan palm (Livistona chinensis) and European fan palm (Chamaerops humilis).
Comments

April 10, 2009
0

found this helpful
Thank you for mentioning palms. I think I have an Arica palm, which I repotted after 3 or 4 years (about 3 or 4 years ago). I keep it on my front porch where it gets no direct sunlight and in the winter I keep it in a spare shower, also diffused light.
Question: How did it get scale and how do I get rid of the scale?? It's on several fronds including new ones, so I don't want to cut them. Someone told me to spray it with Neem Oil which I have in "Garden Safe" Fungicide. It says it's safe for house plants, but since I've nursed this huge palm for all these years, I'm afraid it will kill my palm. Do you know what to do? I would really appreciate help from a professional.
Thanks,
Liz Kent, Salinas, CA (this is an agricultural area, so they spray everything)