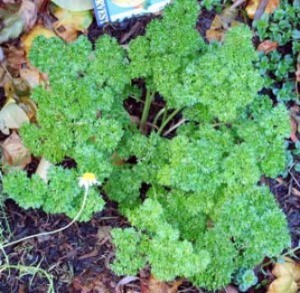 Botanical Name:
Petroselinum crispum
Common names:
Parsley
Description:
Parsley is a widely used culinary herb and a familiar sight in most supermarket produce sections. The crisp, compact leaves of Curly Parsley make striking edgings in the flowerbed and attractive garnishes. The flat-leafed Italian Parsley is coveted for its strong, grassy flavor and makes a wonderful cooked green. Hamburg Parsley is known for its tubular turnip-like roots, which can be cooked and eaten as a vegetable. All Parsley grows feathery, moss-like foliage 9-12 inches tall and produces small clusters of green-yellow flowers during its second year.
Life Cycle:
annual, hardy perennial
Exposure:
full sun or partial shade
Cultivation:
Parsley seed is slow to germinate and should be sown outdoors in early spring or late fall before the soil freezes. Seeds can be soaked in tepid water 24 hours before planting to speed germination. Parsley grows best in fertile, well-drained soil with a neutral to slightly acidic pH. Plant seeds _ inch deep into well-watered furrows. Plants should be thinned to 3 inches apart when seedlings reach a few inches high. Continue to thin them as they grow tall enough to touch one another until they stand 12 inches apart. Sow in succession for a continuous crop of leaves all season. Parsley can also be grown indoors in containers near sunny windows.
Propagation:
seeds
Parts Used:
leaves and roots
Harvesting and Storage:
Harvest Parsley as soon as it reaches 6 inches tall. Use fresh leaves as needed, or refrigerate or freeze them for later use.
Medicinal Uses:
breath freshener
Culinary Uses
garnish (Curled types); cooked greens (Italian types); cooked roots (Hamburg types); egg dishes, fines herbes, sauces, salads, soups (all types)
Other Uses:
skin care, hair care