Tips for growing tomatoes in hanging baskets from the ThriftyFun community.
Try Grape Tomatoes
As far as hanging baskets of tomatoes, all I can think of is grape tomatoes would be the easiest and most adaptable. You need good soil, something to keep the dirt in the baskets, some sort of support for the plants. And plenty of sunlight.
By lahlbrand
Upside Down
My sister grew them upside down in hanging planters somehow and gave me one, it was great!

By Lily 59
Five Gallon Buckets
We planted tomatoes in buckets last year and have started some this year (07). Simply cut a hole in the bottom of a bucket about the size of a quarter turn it over and fill with a good soil. Turn it back over and put a tomato in the hole and let it set that way for a few weeks. After the tomato has taken and made roots, hang it up on a hook somewhere and water frequently. Soon you will have tomatoes!

By JM
Post your own advice below.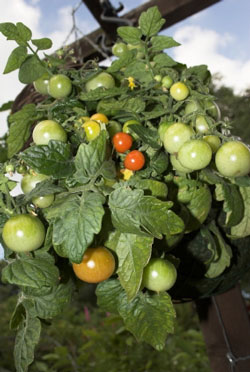 Answers:
Growing Tomatoes In Hanging Baskets
Grow them upside down in a coffee can. Take both ends off a coffee can, and cut an X in the plastic lid. Poke holes in one end of the can to put in a wire for hanging, and then gently insert the plant through the X in the lid, snap the lid on the opposite end from the hanger, and fill the can with soil. The plant will want to grow up towards the sun, and will curl up around the can. Works great with cherry/grape tomatoes or smaller regular tomatoes. (09/13/2007)
Growing Tomatoes In Hanging Baskets
I decided to use milk jugs to plant my tomatoes in, the jug already has a handle to hang them with, and is easier to cut a hole in the bottom, I also made a strawberry pots with milk jugs as well, and have planted bell pepper, squash, and eggplant plants in the tops of the containers! (05/31/2008)

By skayc1