My sisters and I have been going through our parents' personal things since their deaths. One of my children found a vintage picnic basket but the caning on the back that held the top to the bottom was broken. Rather than toss the basket, I put my thinking hat on. I found a brand new pair of leather shoelaces that I am sure were bought for my father's boots and I put them to use.
I "braided" the leather lace into the basket and repaired it using the unbroken side as my pattern. I then removed the unbroken cane and repaired the second side too. I salvaged the basket and gave it to my child as a memento of her grandparents. It may be hard to see the actual lacing in the photo because the basket and lacing are so close to the same color. If any of the other cane pieces break, I will just replace them as well with more leather shoelace.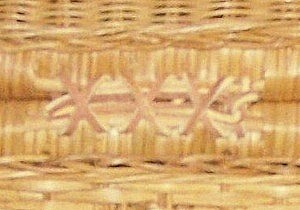 By southeastgeorgiapeach from Jesup, GA
Comments
January 7, 2009
0

found this helpful
great idea!!
January 9, 2009
0

found this helpful
Good Job!
Recently, I had a basket I found at a thrift store lose on the the pins in the back hinge. I simply stuck in two nails, the heads in opposite directions, and it works great! My philosophy is if you can't fix it, make it into a planter!!
January 9, 2009
0

found this helpful
I love the showlace idea!! I am a true basketcase LOL...I love baskets and have them everywhere..we live in a mobile home and not very much storage space here, so baskets are wonderful. I have had to repair a few and have used all sorts of things even brown twist ties then painted over to make it stronger. Thank you so much for this wonderful idea!