May 14, 2015
1

found this helpful
Hi---love this idea! I am curious how it will go for you, as you seem to have them planted very close together. We usually plant (in our large-ish garden) roughly 14 inches apart.
Could you please post an update later to let us know the results? I can see this working in our greenhouse during cooler months for luscious "new" potatoes!

May 14, 2015
1

found this helpful
4TruLady
You're right. They are planted too close together according to accepted standards. This particular yellow potato matures to about the size of an orange, so I took a chance with the spacing. I'll make notes at harvest time. It may be that I'll have to plant them farther apart next year.
Nothing would make me happier than to find a bumper crop of potatoes in that chest this Fall. If the yield is noteworthy at all, I will post a picture.
A lot more work went into this project than you can see. I went to a piece of land that has been fallow for a hundred years. I gathered lots of black gold....dirt from under old trees so rich in leaf mold it was a soft black powder and smelled so sweet.
I sifted about 5 five gallon buckets of it through 1/4 inch hardware cloth. I lined the bottom quarter of the chest with pieces of styrofoam about the size of a small egg. Then I filled the chest with that rich dirt... so rich, I wont be adding any fertilizer.
Wish me luck, TruLady!

May 15, 2015
1

found this helpful
Oh I do wish you luck! How I wish I had some soil like what you are describing! We have clay-based soil, heavy, with a lot of rocks. We have worked a lot with our soil, many amendments including composted turkey litter, rotted hay, rotted wood chips, goat manure, etc.
Soil test says the soil is perfectly balanced, but It's still heavy and rocky. It still feeds us very well though - we are blessed with a bumper crop most years.
Keep us posted on your potatoes!

May 15, 2015
1

found this helpful
4TruLady
I am very familiar with red clay. That's all there was at the old home place. Over the years, I tried many amendments with little success. The one thing that helped most was lots of free, ground corn cobs from the local milling company. Tilling them in was big job but it did help more than anything else.

June 17, 2015
1

found this helpful
4TruLady
The potatoes are coming along nicely. They look good. It has been very dry, here. I've had to water them a lot. I don't have your expertise with growing potatoes.
I'm not sure when enough is enough. Just hope I don't over do it!

June 18, 2015
1

found this helpful
That's great Doug! If they look good on top most likely you are watering just right.
Just a thought - do your coolers have drain spouts on the side at the bottom?

July 13, 2015
1

found this helpful
Well, Kate,
Here are the fruits of my labor. Not exactly a bountiful harvest, though this may be par for this type potato, I don't know.
My first potato crop, certainly not my last. I feel good about my little labor of love. I eat very little meat, however, I'm tempted to get some kabob cuts of a good beef, a nice medium sherry (no cooking sherry), and fresh carrots, and put together a nice stew with these potatoes.
Thanks for all your encouragement.
Doug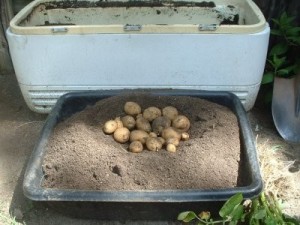 July 14, 2015
1

found this helpful
Going only by the results we've had with yellow potatoes (which I too think are fabulous!), I'd say your experiment was truly a success! We don't even try to grow them any more in our garden, because the yield was so poor. Our best results have come growing several varieties of red potato, which is great if you really enjoy them boiled or in soups/stews.
Perhaps I should start trying to talk hubs out of his old cooler...? (Just kidding, I think it was more about the soil you used!)
Anyway, congrats on a successful experiment and thanks for sharing!
Kate