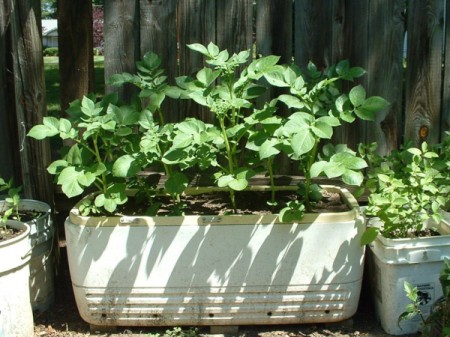 Photo Description
I prefer yellow potatoes over white. They have more flavor. Most have a unique buttery taste all their own. They can't cost one cent more to produce, yet where I live, they're a dollar more per five pounds.
Since late winter, I've been saving potato pieces with eyes, a couple each time I cooked potatoes. I put them in yogurt cups filled with soil and barely covered the eyes with more soil. I let them grow under fluorescent lights til mid March. Then, I planted them in an old ice chest. The picture shows the results one month later.
There's nothing special about growing potatoes in containers. But, I did want to share this picture with my fellow ThriftyFun members for two reasons. One, at this stage, the plants are very healthy. No signs of pests or diseases. Two, this is my absolute first time to grow these babies. I feel good.
If you've never tried yellow potatoes, I suggest you do. I think you will be in for a pleasant surprise.
Look out, local grocer. I'm gaining territory.
Photo Location
My very busy and often cluttered back lawn