I have a seven and half week old blue Pit puppy and today he started growling at me. So I turned him up side down to show him that I'm alpha and he got more mad and tried to bite. How do I prevent this?
Dale from Colorado
Answers:
Growling Pitbull Puppy
Have you ever seen The Dog Whisperer? Cesar Millan is THE MAN. I think the show comes on Discovery, and you can probably rent or Netflix it. He also has a book. As for an immediate fix, you're on the right track. You grab it by the scruff, firmly say "NO," pin it to the floor, and don't let it up until it's calm and submissive. Then reward it every time it does something good. If it misbehaves again, tell it no and pin it to the ground again. This works surprisingly fast. Good luck- You'll need it, especially since many people are so unfairly biased against pit bulls and will be on the lookout for anything that could possibly seem aggressive... It's always good to start training any breed to be polite while young. (05/21/2007)
By Beth - MA
Growling Pitbull Puppy
I second Cesear!!! I am not a dog person, but if my husband ever gets his wish and gets another, then we are doing it the Dog Whisperer way! Pit bulls are one of his favorite breeds.
Here is the link
http://channel.nationalgeographic.com/channel/dogwhisperer/ (05/21/2007)

By michawnpita
Growling Pitbull Puppy
I have a Maltese and a puppy mill surviver, Bichon Frise. When the malt was a puppy he was teething and would nip at my hands. I told him "No bite" very firmly and put him on his back and put his own paw in his mouth. Took once, I think, and he never growled or bit again. (05/24/2007)

By daiquiri
Growling Pitbull Puppy
Why in the world would you turn him upside down? He did not understand that. You should never physically or mentally hurt a dog. They do not forget and will not ever be situated to being a good pet, You must be firm, but not hurtful. You should be the alpha, but you must do it the proper way, just like a mother dog would do to a pup. Proper dog training takes much time and patience and has to be consistent to ever create a dog with good manners. This is a breed to be very consistent with but not to the extent of harmful. (05/24/2007)
By sue
Growling Pitbull Puppy
My sister has a Rottweiler who as a puppy would growl and want to "take over". They tried putting the puppy on her back and she got very nasty. Then my sister put the dog in the bathroom without turning on the overhead light. The dog was left in the bathroom for maybe four or five minutes. This action tells the dog that she is "banished from the pack" and did help to let the puppy know that she was not the boss. Some dogs are difficult and you have to keep an upper hand with them. Please consult books and your veterinarian. Puppy snacks or tidbits of food can be given to reward good behavior. Good Luck. (05/24/2007)

By Barbara
Growling Pitbull Puppy
One of our two dogs was becoming very aggressive towards the other. She was getting bigger and older and was trying to be dominant. The next time she showed dominance towards the other dog, I quickly pushed her to the floor by her neck, gently but firmly. I yelled no very loud. It's ten years later and she has never done it again. I read that by doing this I was showing her that I was the boss and that she doesn't rule the household, I do. (05/25/2007)
By Laura
Growling Pitbull Puppy
I read your message and I think you misunderstood me. I have never and will never hurt my puppy/dog. I gently turned him up side down and rubbed his stomach which is something I read off the web. I'm raising this puppy with love compassion not hate.
(05/25/2007)

By dale1531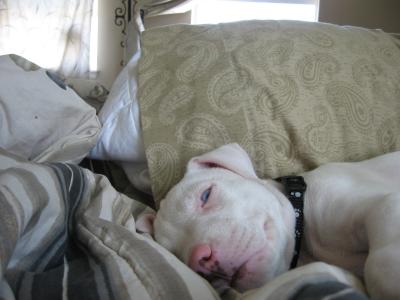 Growling Pitbull Puppy
You have more guts than I do!! I love dogs, but a pit bull is one that I won't even come close to, even if it would belong to a friend! Too temperamental and high strung. Even IF they are raised with compassion and treated nice, they can go off at any time! Good luck! (06/01/2007)

Growling Pitbull Puppy
I have a 3 year old pit bull from a rescue-when I first got him, he would make this strange noise that I thought was a growl but he always seemed to be in a good mood when he did it. I spoke with the lady that runs the rescue I got him from and she said pit bulls make a growl-like sound which is really a laugh. We call it talking in my house. When we get home from work and before he goes for a walk, he really gets to "talking". As far as trying to bite you goes, since he is just a puppy, he may think it's a game-if my dog does something bad, I pop him real light under the chin-he's really sensitive and even though it doesn't hurt, he looks so pitiful if I do it. Good luck-we've really enjoyed our pit and I'm sure you will too! (06/04/2007)
By Trooper's Mama
Growling Pitbull Puppy
When you held the dog upside down, he took that as a sign of aggression from you. And since dogs quite often learn their behavior from the alpha, you don't want to teach him aggressive behavior. To stop behavior you don't want, just get a spray bottle filled with water, and spray him in the face when he displays behavior you don't like. Dogs hate to sprayed in the face, and it is a non-aggressive way to teach him what not to do. But each time you spray him, say something like "no growl", or "no bite", or which ever word is appropriate for the action. (06/09/2007)

By JParker145at.aol.dot.com
Growling Pitbull Puppy
It's right to put the puppy on his back until he is calm. He needs to learn to be submissive to you, and this is how dogs do it to each other. Do it every time he misbehaves, and it will soon make you the alpha dog. It doesn't hurt him one tiny bit and it is not cruel. You are being a responsible owner who doesn't want a future problem for you or your dog. Good luck! (06/26/2007)
By Stngray
Growling Pitbull Puppy
My pit puppy was this same he would growl at me so I put him on his back, and he used really fight with me and try and bite me, but I just keep holding him till he came down. It wasn't easy. He was a strong little sucker. After a while he stopped. I can do anything to him and he will growl at me. I can put him on his back and hold him, pull his ears, I mean anything. He is a great dog he is going to be 6 months on 26th, and I have a little girl that's his sister, and she is great, too. I love them both to death. The best 2 dogs I ever had. (02/07/2008)

By pitbull lover
Growling Pitbull Puppy
Puppies growl when they get frustrated. Ignore bad behavior and praise good behavior. I get most of my training ideas from watching dog whisperer. On that show Caesar Mullan always starts by exercising the dogs. If they aren't exercised they are going to be more aggressive. You want to always wear your puppy out before you try to train them. Play tug a war, run around the house, go on a walk, anything to get them tired. Then go ahead and train them.
A Tired puppy is a Happy puppy! (03/25/2008)

By janessa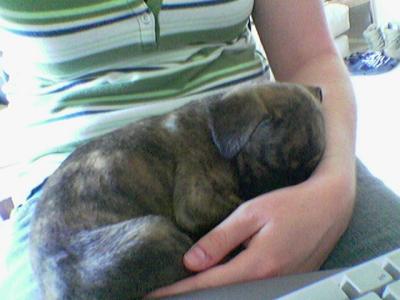 Growling Pitbull Puppy
I have a dominate pit bull pup. He is 1 year next week. I have put him on his back since he was 6 weeks. He growled at me then and does sometimes now. I have to be alpha. Not harsh just consistent. If I ignore him for 4 days, only food and potty, little else in the way of affection, he does better. (09/04/2008)

By Telisa m