I have a 9 week blue nose Pitbull puppy and we are working on house breaking. Its going ok for her age, but the problem I'm running into is I will take her outside and she will go to the bathroom 3-5 times, but then 2 minutes after coming back in the house she is peeing on the floor.
It's always in a different spot and I can spend 5 minutes to 30 minutes and it's always the same. I'm unsure on what to do to stop this, so if anyone has any advise to give, please do.
By j
Answers
October 14, 2010
1

found this helpful
We have a 3 year old pit and we got her when she was 3 months old. We had her house trained in a week. I have read the responses on this subject and most of them I agree with. Some of them I don't. Every dog is different! Every person is different! What worked with our dog was crating her during the day when we were at work and at night. We took her potty before we put her in her crate and after we took her out, every time. When she pottied outside she was given a treat right then and there. If she did have an accident, yes we made sure she knew what we were talking about by making her look at it and then (by the collar) walking her outside to the grass.
we kept saying "go outside, go potty". As soon as she pottied in the grass there was a treat waiting for her right as that moment. She hardly ever had any accidents in the house after the first 3 days. Now, she listens better than our kids do. lol. We went from the crate to a giant dog pillow "her bed" and she knows when we say go to bed that is exactly what she does.
They are smarter than you think. It's like riding a bike when they learn stuff. They wont forget it!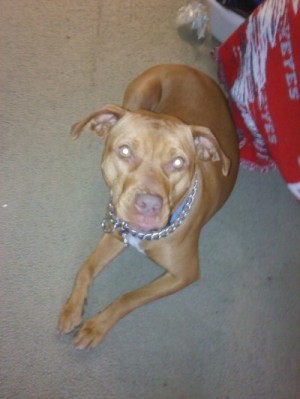 October 15, 2010
0

found this helpful
I have two pit bulls that I have had since they were puppies. When I was housebreaking them, and until they were probably 6 months old, I had to keep the water bowl put up. They would drink and drink and then not be able to hold it to go outside. I would offer them water right before a trip outside many times a day so they wouldn't get dehydrated.
Also, make sure you take her outside as soon as she wakes up from a nap, right after she has been running around or playing, and right after she eats. Crate training works great when you are not at home. If done correctly, most dogs come to see their crates as a safe place and will even go there if they are feeling stressed by a situation. Above all, lots of patience and parise.
October 16, 2010
0

found this helpful
I agree with putting up the water bowl. You need to control the amount of liquid intake to control the output. Lots of praise for a "JOB" well done and never rub your dog's nose in her mistakes. Remember, patience and persaverance.
February 12, 2011
0

found this helpful
I need help. My son got a puppy red nose, Bentley, he is 8 weeks now. He lives with my son and his 2roomates but I sit for him two times a week when he waiters. He brings the pad I put it down but he pees on the rug 3 times and once on pad, my son says the pad should be right in family area near TV, but I think it should be near sliding doors in that same room.
Is 8 weeks to young to be trained? And does a pit bull have to be crate trained. Please also tell me they definitely are not vicious if we have from such a young age.
March 14, 2016
0

found this helpful
Put a dog training pad away from where he or she sleeps and every time they relieve the dog does on the training pad you give them a treat even when they are outside.
July 3, 2016
0

found this helpful
welcome to my world! My blue nose pit is 9 weeks also and I am going thru the same thing! I am however finding that everytime he does this I put him in his cubical. I got a fence that is shaped like a square and he knows when I put him in there is because he does the pooping a peeing in the home. So he is slowly getting bit better, but lord this feels like forever!
Read More Answers
How do you house train 4 month old pitbulls?

Sarah from Seattle, WA

Answers:
By socal
House Training a Pitbull
I recently adopted an 8 week old Pitbull puppy. The first night in his crate, he cried, and made so much noise, he won the battle and ended up sleeping in my bed. Although this is not a habit I want him to learn. Once they are allowed to do something, you can't change your mind and not allow them to do it. The second night in the crate, he lasted 5 hours. The crate was next to my bed. He calmed down with a lot of calm talking to him. The third night in the crate, he lasted the whole night.

Give them a lot of patience, do not give in. Although they can get loud, put the crate where they can see you. During the day I am home, by the second day, he was walking in his crate freely, and napping. The door is left open during the day. I did put a handful of dog food or a small treat in the crate, along with a stuffed animal and old blanket. He now loves it. Be sure once the puppy wakes you, no matter what time it is, you take him out, praise him/her when taking them out of the crate and when eliminating. The crate should be used when not at home, as my puppy loves to chew, this includes wires. When you cannot supervise him/her, close the door to the crate. Soon, your puppy will be walking in on it's own. (03/23/2007)

By PROUD PIT OWNER
House Training a Pitbull
I had my Pit since she was 6 weeks old and a Pinscher mix I rescued when he was 9 weeks. I've crate trained them both and I brought them home on a Friday so that I would be able to take them out often and lose some sleep over crate training for the weekend. I brought them outside every hour and also did not let them have free range of the house, only the room that I was in and I had used baby gates to keep them in that room. I watched for signs if they had to go potty, each dog is different, my Pit goes in circles forever if she has to poop and if she has to pee, she sniffs once or twice then she just squats and pees. I tried to use pee pads, but I noticed it only confused them with a pee pad and a carpet. Again it differs for each dog because my Pinscher mix never got confused, but the pitbull confused easily.

I fed them, and then took them out after 10-20 minutes, again you'll notice the signs and you'll find out approximately how long it takes before they need to go outside. Anytime they made a mistake in the house and I caught it, I would yell no very firmly, and bring them outside immediately, and once they finish their business outside I would praise them and give them treats (my Pit is very food oriented so she'll do anything for a treat). If they don't have anymore business to do outside, I would still take them outside that way they can associate going potty with outside. If they went potty inside and I didn't catch them, I never punished them, because it's not their fault. They don't know any better yet and it was mine since I wasn't watching them. At night, I put my pup in her crate, and she did whine and cry, but she fell asleep. In middle of night she would wake up and cry, but I took her outside to go potty, gave her small treat, and put her back in crate.

After her she was finally housebroken, I would start to give her treats for going in her crate, I would tell her to "go to your room" and she would sit in her crate, and I would give her treat so she knew it was a good place to go to.

Once in awhile she peed in her crate, but I believe it to be my fault for letting her have water before she went in the crate or what not. It takes time, patience, consistency, and being extremely firm to train a Pit, but it is worth it because they are the sweetest dogs out there. (04/06/2008)

By Jen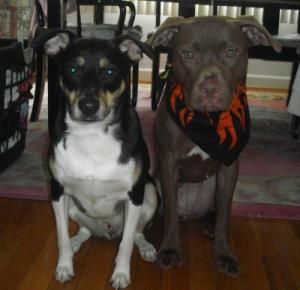 House Training a Pitbull
TIP #1: Watch for the Potty Sign. Recognizing that puppy needs to potty is the first thing you should do. One of the easiest signs to spot is the sniffing. Excessive sniffing of the ground is one way to tell that your puppy is thinking about going potty on your nice rug or carpet. Pick the pup up and set it outside.

TIP #2: Be Prepared. Be prepared to clean up some accidents and don't freak out about it. One thing that always made me laugh was how people reacted when they're new puppy went in the house. They acted surprised, like it was a shocker the little thing used the bathroom. So be prepared to clean up some mistakes and remember, the little darling is just doing what comes natural it's your job to teach it were it's okay to go.

TIP #3: Take it Outside. When you notice the dog is thinking about going to the bathroom pick it up and take it outside. I would recommend taking it to the same spot every time. This way clean up is easier because you know it will be right there and not all over the yard. If an accident occurs be calm, carpet can be cleaned, simply pick up the dog place it outside in it's potty area and leave it there (you should be with it) for a few minutes.

TIP #4: Never Correct. This is one many of you may not agree with, but here me out. You don't have to yell at the dog, spank it, and for God's sake don't rub it's nose in the stuff. That's just down right rude. Calmly pick the dog up, set it outside, and proceed to clean up the mess. Bring the puppy back in the house and go on with your life. Correction is a set back in this case because once you scare the puppy it will start to hide and do it's thing. Which makes the process longer and more difficult. No harsh corrections means the puppy will have it's mind at ease and will be able to learn what you want it to do. Which is go outside to potty.

TIP #5: Be Consistent. I know in this busy world it's hard to be there all the time to get the little darling outside to use the bathroom. Consistency is key here, the more times the dog is let out to use the bathroom when it needs to go the less time it will take to learn that's the right thing to do.

A few more extra tips: take the dog out 10-20 minutes after eating and drinking, before bed time, and right when you wake up in the morning and when you get home from work.

House training isn't that hard if you devote the time it takes to get it done right. Respect the puppy and be consistent. In as little as one week you can have a house trained dog.
Good Luck! (09/16/2008)

By Pitbulllover
House Training a Pitbull
One thing that I learned from a resource on training puppie's is if the pads don't work, then use cat litter. Yes cat litter. My 10 week old Staffordshire albino Pit Bull used the kitty litter before he went on the pads. I tried the pads first so I found out that the litter works better, it gives them that feeling of being in dirt. (01/15/2009)

By Don B
House Training a Pitbull
I have a 5 month old Pit who's doing great with his potty training. Don't get me wrong he has had an accident or two.
You have to keep on them and remind them at least every 20 minutes. But at night before bed, I take him out for a pee pee then first thing in the morning.
Remember they are just puppies.

Good luck. (02/16/2009)

By Marisa