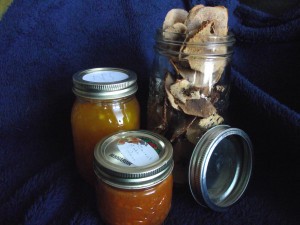 Choosing the perfect gift for each person on our list means paying attention throughout the year and taking note of preferences. This is particularly true when making gifts.
The gifts I value most are those which someone took time to make for me, and I suspect this holds true for everyone. After all, unless were children, we usually buy what we want (or save up for it) and don't expect anyone to buy things for us, right?
My sister does beautiful handiwork, for example, and no store I've ever been to carries the quality linens she embroiders for her family and friends. Nothing compares to the handmade slipper socks from my mother's knitting needles, and my dad does gorgeous petit point then uses his woodworking skills to make frames.
I love to cook and have collected quite a few gift-worthy recipes over the years. I won't share them here as its a fairly hefty file folder, but will happily share the list and even recipes themselves upon request.

Kitchen Gifts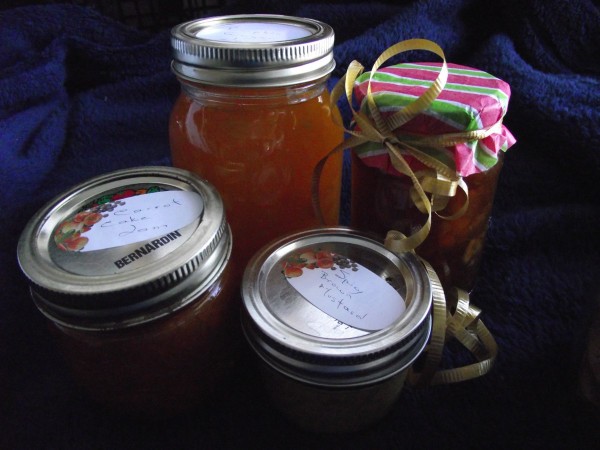 Making kitchen gifts can be a thrifty choice with the most valuable ingredient often being our time. Pumpkins, for example, are very inexpensive in the fall. Getting at the meat is a bit of a chore, but when combined with ginger, lemon and sugar makes a gorgeous jam.

Spiced and roasted pumpkin seeds are a lovely gift for anyone who enjoys a savoury snack.

Carrots are also reasonably priced around this time of year and again with a few additions and a bit of effort produce another type of jam. Add a few spices for Carrot Cake Jam.

If you have access to a crab apple tree, take advantage of the bounty to make jelly, apple sauce, apple honey, apple chutney and/or pepper jelly.
Have you noticed the bins full of inexpensive apples at your grocery store? Baked apple chips! Very simple to make and easily enhanced with cinnamon or ginger powder or a mix of the two.

Save desiccant/silica packs (or make your own) to include with these so the chips don't get limp between wrapping and unwrapping.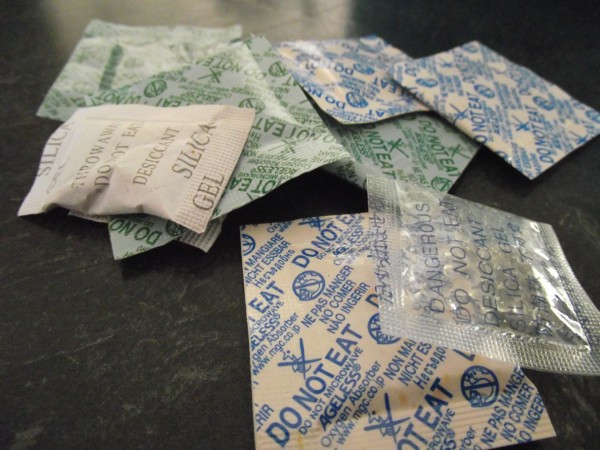 Gift-wrapped coffee cans are a perfect container for this item and keep the chips from getting broken or smashed. I also like to include a short note to advise a quick 30-minute bake at 225°F to firm up the chips, if necessary.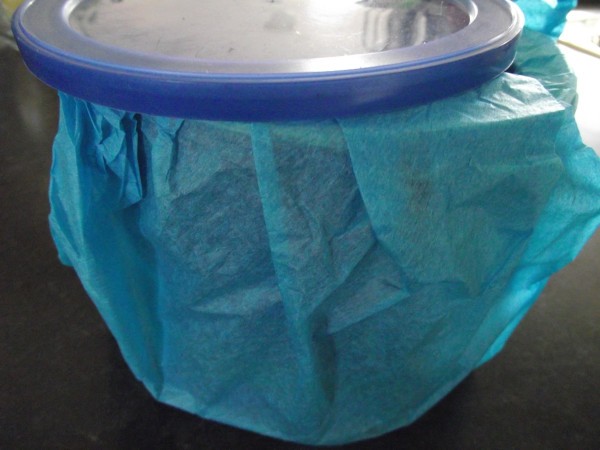 Add onion, fresh ginger, garlic and hot peppers to rhubarb from your garden for a very tasty conserve; perfect for those on your list who enjoy beef, poultry and pork.
Who doesn't love fudge? It is a bit fiddly, what with making, cooling, cutting, setting in candy cups then packaging, but, wow, for the people on your list with a sweet tooth, it's a hit. Its also a lovely treat to take to the office and pass around to co-workers / associates.
Nothing could be simpler than flavoured vinegars, spice mixes/seasonings, or ready-made meal additions such as rice and spice mixes.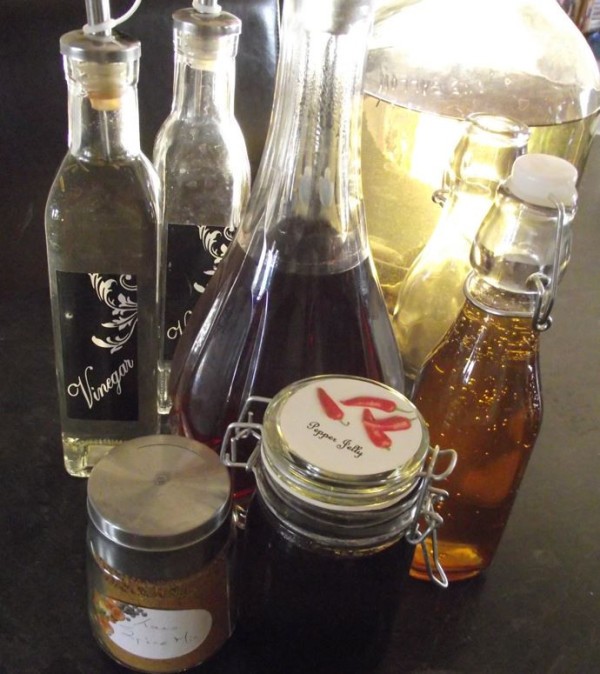 The delicatessen delicacy, hot mustard, isn't always easy to find, but is amazingly simple to make and pairs well with not only meats but also tofu and even vegetables for those who enjoy a bit of heat.
I try to be mindful of allergies and sensitivities and print ingredient lists to include with each item, along with a reminder to re-use, return or recycle the jars.
Do you keep old wrapping paper? Use a coffee can or other large round container to draw big circles on the gift wrap, cut, then use an elastic band and ribbon to adorn the tops of jars.
Other, not-so-thrifty gifts can include homemade liqueurs (raspberry brandy or flavoured vodka, perhaps) and Ive had great success with homemade Drambuie and Frangelico for those on my list who enjoy an aperitif. Spiced mixed nuts (sweet or savoury) are another not-inexpensive gift option for snack lovers.
Dollar stores typically carry bottles and jars suitable for gifts of all kinds, and a small notebook dedicated to the subject of gifts is handy for making notes throughout the year. Making your own gift labels is reasonably easy with a printer, although hand-written labels have a certain appeal.

Thoughtful Gifts
For those who don't enjoy cooking or simply don't have big chunks of time to cook and preserve, another fun alternative is to make coupon books. The young couple with kids would love nothing more than half a dozen coupons for babysitting services. An elderly person who doesn't enjoy driving or simply doesn't drive might appreciate knowing they could call you once a month for help with errands. A partner might be tickled pink to receive a few evenings of candle-lit dinners, or dancing (even at home), or however you care to interpret a bit of romance (anticipation being part of the thrill, of course).
What I wouldn't give for an extra pair of hands in the spring when setting out bedding plants and getting the garden ready for planting. Mowing the lawn, weeding the flower beds in the summer? I think coupons for help of that sort would be wonderful gifts, and I'm not the only one. Think about the home-owners and gardeners on your list?
By paying attention throughout the year, we can learn a lot about what our family and friends would most appreciate, and we can plan accordingly. Thoughtful gifts mean more than anything money can buy.
Wishing you all a very Merry Christmas!