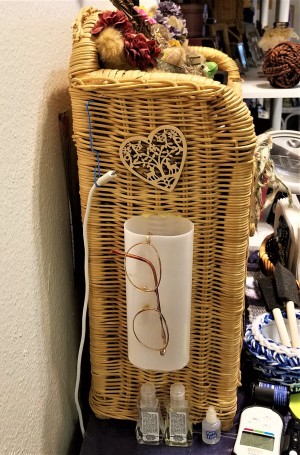 I have to use a glasses magnifyer for now, till my eyes are better. They clip on my glasses, and it helps me do reading, facebook on the phone, crafts, or Kindle work. Also, this is my charging station for the phone. But, they were always in the way or I left them somewhere they weren't needed. Or, the charger was on the floor.
So today, I got out my hot glue gun, a drink pouch container, and a large paperclip and fixed them both. With a high temp gun, I glued the drink container onto the wicker cabinet I have at the end of my table. I hang my dollar tree readers on the outside to remind me the magnifiers are inside.
Then I carefully opened a paperclip like and "S", hung it on the side, and put my charger "phone end" in it, and fixed two problems in about 10 minutes.
N-JOY!