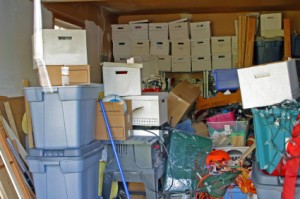 When my father passed over a year ago, my husband and I were faced with the daunting task of cleaning out his house to sell it. We live in another state and it took us much time and money to get this done, almost a year in fact.
After going through this I am determined not to put my children through this hardship. I have been sorting through all the stuff my husband and I have accumulated over the years. I have sold things at flea markets, yard sales, and given to our local Salvation Army. I have earned money not only by selling but finding things I probably would have bought in the near future.
I am more aware of the stuff I bring into my home now. I weigh each purchase. The best is I save time by not having to move "piles" from one area to the next. We enjoy are home more because we are not always stepping over things and battling clutter. Home is a calmer more spacious place to be.
By Pat Wilkens from Eastern PA
Do you have a frugal story to share with the ThriftyFun community? Submit your essay here: http://www.thriftyfun.com/post_myfrugallife.ldml
Comments
September 16, 2012
1

found this helpful
Top Comment
After many years of accumulating things, I am in the process of that now. I have saved things from my two sons who have passed on 21 and 18 years ago as well as so many things I've collected from the kids, their school papers, gifts, scrapbook items, etc. For the first time in 47 years, I will be living by myself. No more children, adult children, their spouses and no more grandchildren.
I realize that it is better to have a few nice things that mean something to me rather then a houseful of what nots that are just collecting dust. I do not want to leave everything for my children to do.
At one point we all discussed what would be done with all my belongings and they all said "bonfire" at the same time. I realized then that I had way too much stuff and it didn't mean anything to them. I have started a tote for each child and grandchild. As I go through my stuff, I put something into each tote that I think they would like as a remembrance of me. Much has gone into the trash, sold at yard sales or donated to someone that needed it.
I understand where you are coming from and think all of us will do better by dealing with our things bedore we pass on and the kids have to make decisions at a sad time. People have so much more today then they did years ago and our children have enough of their own. A few special pieces will mean more to them then a houseful of unusable things.
Judie from Eau Claire, WI
September 16, 2012
1

found this helpful
Top Comment
I so agree with this post - My mother was a packrat and I thought I had inherited this trait. Lucky for me 2005 brought me Hurricanes Katrina, Wilma and Rita and a move from Florida to Oregon. I sold my house and used Freecycle, Craigslist and a charity called Grubstake to empty the contents of my 3BR 2BA house. It was the most gratifying exercise and a revelation in what my "needs' versus my "wants" actually consisted of. I now live in a 1BR Condo surrounded only by the things I love. The weight off my shoulders is tangible and allows me to breathe.
September 17, 2012
0

found this helpful
Top Comment
I went through the same thing with my parents passed. My brother, sister and I all spent time cleaning out the attic that has been paced since 1945, it too took us couple years and finally finished and sold the house.
I feel the same way and when my girls come to visit I ask if there is anything they want otherwise it goes and have been doing this for almost a year of garage sales, flea markets and resale shops. It's getting there slowly but surely and am so enjoying what treasures I have long forgotten about or packed away.
Yes, my daughters have taken things and still find more treasures from their childhood. I anticipate another 6 months and will be finished. Being I work full time can only do so much at a time.
September 18, 2012
0

found this helpful
Top Comment
Good idea. I too was faced with cleaning out my parent's huge overstuffed home. I donated to every charity that called, gave to my kids and the neighbors and threw stuff away.
If anyone has trouble getting rid of something just look at it, contemplate the size of it, even if it is a shoebox and say to yourself "this item is taking up this much space in my home".
One thing I noticed in a movie based in Iceland that I just saw, is that there was a noticeable lack of extra STUFF in their homes and other places. We as Americans have so much extra stuff, but I am trying to use that vision of a stripped-down environment to inspire me. That has helped me as I am clearing out my apartment and the rest of my life - I have so much to donate. And it's a good feeling that I can contribute somehow without putting out extra cash.
By pam munro from L.A., CA
Comments
July 2, 2010
0

found this helpful
Top Comment
Good for you! We are going to be doing some serious decluttering this weekend. I told hubby that I am not going to see about a land/home package next tax season if I have to pack a bunch of boxes filled with things we did not even remember that we had in the first place. I gave him the deadline of this year to help me, or we wll stay in this annoying place another year. I wish I could get an impartial third party to help, though. Someone who can give me 'that look' when I am teetering on wanting to keep something for sentimental reason, not practical. And to give it to my husband for almost everything he has that has 'star wars' or 'indiana jones' written on it, lol.
Hopefully, we'll be seriously decluttered by New Year's day
July 4, 2010
0

found this helpful
Top Comment
My husband and I sold our 3-bedroom home and moved into a 2-bedroom apartment. We had a one story ranch home with an antique kitchen set and antique living room furniture.
We made an appointment with an antique appraiser who had an auction house. He came out to our home and gave us an appraisal. About a week later, two young guys showed up and carried our furniture out the front door and loaded it into a small van. We took a financial loss when it was auctioned off, but we were glad just to get rid of it.
There was a widow who lived across the street and one next door to us. I know they were watching while the furniture was carried out of the house. The women were nice but they had a tendency of being busybodies at times, nothing to do constructively but watch the neighbors. This all happened before a real estate sign was posted in our front yard, so they must have thought that we were going through a separation, then a divorce.
My husband and I love each another and just celebrated our 42nd wedding anniversary on June 15th.
The point that I wanted to make is that we are happier now living in an apartment than a house. We have less stuff in our lives and we know that we can't take it with us when we die.
No one has ever seen a U-Haul behind a hearse!
If you are cleaning your closets, basement, or garage now, consider donating your unwanted items to the Goodwill, Amvets, Salvation Army, or some other worthy charity. They will give you a receipt for your goods if you ask, as your donations are tax-deductible if you itemize your return. Even if you don't use the deduction, you are doing a good deed, AND cleaning up your home!

By Ness from Lakeview, NY
Comments
By TLC (Guest Post)
April 4, 2004
0

found this helpful
Top Comment
Even if it's old t-shirts with holes, some places like goodwill & salvation army, cuts these up & resells as cleaning rags. :-)
July 28, 2007
0

found this helpful
Top Comment
Some churches accept donations of goods for resale with proceeds going for mission work or to pass out to needy families. Check with the churches in your area. You'll be blessed.
August 1, 2007
0

found this helpful
Top Comment
We have an on-line group (another Yahoo group) here in Richmond VA called Freecycle. You can post offers for things you want someone to come pick up and needs/wants for things you might need. I have given some useful things away to some in need and I've gotten some useful things that I or a family member or friend could use.
Today's poll asks: Do you have problems eliminating clutter in your household? Read our readers' answers and solutions here.
Feel free to post feedback about this poll in the feedback forum below.
Answers
February 10, 2006
0

found this helpful
Best Answer
First it helps to be a disciplined person, secondly I think that with Ebay a lot of people are getting rid of the clutter and finding that they can make a little extra money too! Thirdly, with programs like freecycle.org people can get rid of a lot of stuff and know that it is being put to good use and not ending up in the landfill.
By Angela (Guest Post)
February 10, 2006
0

found this helpful
Best Answer
1- Deal with mail as soon as you read it:
a) put bills together with a paper clip or in a folder kept for that purpose.
b) dispose of junk mail immediately.
c) put mail that can be dealt with later in its folder.
2- file folders immediately : it is easier to file 2 or 3 folders than a dozen.
3- organize laundry as follows: give each member of the family a basket for their laundry, in the laundry room, where they must drop in their dirty clothes. (This might require a family meeting).
February 10, 2006
0

found this helpful
Best Answer
I have finally learned less is more. If you don't use it get rid of it. When I am gone someone else will come in and have to get rid of it so I might as well do it and save them from having to do it.
February 11, 2006
0

found this helpful
Best Answer
All my life people have been so generous in giving me things,treasures for ME! How do you chuck so many fond memories? 54 years of marriage and 32 years in a very small house is NOT enough room to store "TREASURES", music boxes, photo albums,and all the love with each one .We all know you can't take it with you.LOL But How to part with it escapes me. Here is one, a birthday gift. Angel Granny (Vi) with a cell phone and a red string on her finger to remind her to call. She makes me smile alot.
February 11, 2006
0

found this helpful
Best Answer
Best solution to help me with my clutter was when I joined flylady.net four years ago. Changed how I dealt with it forever!
I'm a closet clutter type of person, sentimental clutter. I had to realize not all gifts make me smile, and that the item is not the loved one, so that helped me eliminate a lot of clutter and guilt that sometimes comes along with it.
I also do daily clutter patrols of my flat surfaces and weekly for my school paper and mail pile in my kitchen.
Go check out flylady, I learned it all from her! :)
Answer

this Question

...