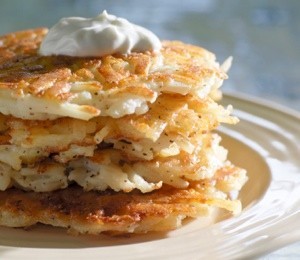 These are some of the foods that would traditional be served at a Hanukkah supper. Fried food is traditionally eaten on Hanukkah in commemoration of the oil that miraculously burned for eight days when the Maccabees purified and rededicated the holy Temple in Jerusalem.
Fried Potato Pancakes (called Latkes in Yiddish and Levivot in Hebrew) are the hands-down holiday favorite. My friend Amy's husband and my husband always collaborate on the Latkes. They are wonderful served with applesauce.
One of the strict Jewish rules is that you can not serve dairy and meat together, so you could not have sour cream with the Latkes, if you were serving the Brisket.
Brisket with Vegetables
1 large (turkey-size) oven cooking bag
2 Tbsp. all-purpose flour
3 to 4 lb. flat-cut beef brisket
1 tsp. onion powder
1 tsp. garlic powder
1 tsp. dried oregano, crushed between your palms
Kosher salt and freshly ground pepper to taste
3 lb. baby red potatoes, peeled and left whole
1 lb. carrots, peeled and cut into 3-inch lengths
8 ounces mushrooms, cleaned and halved
1 head garlic, cloves separated and peeled
1/2 large sweet onion, sliced thin
1 package Lipton dry onion soup mix
1 package Knorr mushroom gravy mix
1 cup tomato juice
1 cup water
Cooking spray (optional)
Preheat oven to 350 degrees F. Place flour in cooking bag and shake bag so that the flour reaches all parts of the inside. Place bag in a large roasting pan and spread the flour evenly over the bottom with your fingers. Using the onion powder, garlic powder, oregano, salt, and pepper, season both sides of the brisket. Place brisket, fat-side up, in the cooking bag on top of the flour. Spread potatoes, carrots, mushrooms, and whole garlic cloves evenly around the outside of the brisket inside the bag. Spread the thin-sliced onions on top of the brisket.
In a mixing bowl, combine onion soup mix, gravy mix, tomato juice, and water until combined. Pour on top of brisket and vegetables. You may wish to lightly spray the tops of the vegetables with cooking spray so they do not discolor. Seal the bag with the plastic tie provided. Cut 4 slits (1-inch) in the top of the bag for ventilation. Bake at 350 degrees F. for 2-1/2 to 3 hours. Let rest for 15 minutes before slicing brisket. Slice brisket against the grain into thin slices. Serve with vegetables and natural gravy from the bag. Yield: 4 to 6 servings
Latkes (Potato Pancakes)
5 potatoes
2 onions
3 eggs
1 tsp. salt
1/4 tsp. pepper
between 1/4 to 3/4 cup all-purpose flour
oil for frying (canola is recommended)
Peel potatoes. Place in a bowl of cold water so they won't turn brown. When ready to prepare the latkes, drain the potatoes. Place potatoes and onions in a food processor fitted with a knife blade. Pulse until smooth. Drain mixture well. Pour potato mixture into a large bowl. Add beaten eggs. Add salt and pepper. Add enough flour so that the mixture holds together.
Pour 1 inch of oil into a large, deep frying pan. Heat the oil over medium-high heat. Carefully drop 1/4 cup of the potato mixture into the hot oil.Flatten the pancake slightly so the center will cook. Fry for several minutes on each side until golden brown and cooked through. Drain on paper towels. Serve the latkes with applesauce.
Honey Puffs
Batter:
1 packet (2-1/4 tsp.) active dry yeast
1 cup warm (105 to 115 degrees F) water, divided use
1/2 tsp. sugar
1 large egg
2 cups all-purpose white flour, preferably unbleached
1/4 tsp. salt
Honey Syrup:
1 cup sugar
3/4 cup cold water
1/2 cup honey
1 Tbsp. lemon juice
For Frying and Garnish:
Vegetable oil
Ground cinnamon
For the batter, mix together the yeast, 1/2 cup of the warm water, and the sugar in a medium-sized bowl. Let the yeast mixture rest for about 5 minutes, or until it is foamy. Stir in the remaining batter ingredients (including the remaining 1/2 cup water) until smooth. The batter should be very loose and sticky. Cover the bowl loosely with plastic wrap and let the batter rise for 1 hour. (If necessary, the batter can be stirred down at this point and allowed to rise for another 30 minutes.) While the batter is rising, prepare the honey syrup. Mix together all the ingredients in a 2-quart or similar saucepan and slowly bring to a boil over medium-high heat, stirring only until the sugar dissolves. Lower the heat slightly and boil the syrup, uncovered and undisturbed, for 5 minutes.
Remove from the heat and set aside to cool to room temperature. When the batter has risen, stir it down. Put enough oil into a large saucepan or a wok so that it is about 1-1/2 inches deep. Heat the oil until it is very hot, about 375 degrees F. Dip a tsp. into the oil, and then use the spoon to scoop up a small portion of the batter. Gently drop the batter into the oil. (Keep your opposite hand moistened, in case you need to nudge the batter off the spoon. The batter will not stick to wet hands.) The dollop of batter will quickly puff up to almost twice its original size. Make more puffs in the same manner, but do not crowd the pan. Fry the puffs, turning them occasionally with a slotted spoon, until they are browned on all sides and very crisp.
Drain them briefly on paper towels or on the rack that attaches to some woks. Then drop 1 or 2 at a time into the cooled syrup (see Note). Use a different spoon or tongs (so the syrup will not get oily) to turn the hot puffs in the syrup until they become completely coated with it. Lift the puffs up, and let the excess syrup drain off. Put the puffs on a large plate. Repeat the frying and dipping process until all the batter is used. Then sprinkle the puffs generously with cinnamon. For best taste and texture, serve them as soon as possible.
Yield: about 36 honey puffs.
Lettuce and orange Pecan Salad
2 Tbsp. white wine vinegar
3 Tbsp. honey
1/2 tsp. dry mustard
1/2 tsp. celery salt
1/2 tsp. paprika
1/4 cup olive oil
3/4 cup pecan halves
1/4 cup sugar
2 heads red leaf lettuce, torn into pieces
15 oz. can mandarin oranges, drained
1 cup chopped celery
To make dressing, combine vinegar, honey, dry mustard, celery salt, paprika, and olive oil in a small screw-top jar. Shake vigorously until blended.
Combine pecans and sugar in medium saucepan over medium heat. Cook and stir until sugar is melted and pecans are coated. Remove from heat and place on parchment paper; separate nuts. Cool completely.
When ready to serve, combine lettuce, oranges, sugared pecans, and celery. Drizzle with salad dressing, toss, and serve. 8 servings
Easy Hanukkah Cookies
1/3 cup sugar
1 tsp. cinnamon
1 sheet puff pastry dough, thawed if frozen
3 Tbsp. butter, melted
Lightly grease cookie sheets or line with parchment paper or silpat liner. Combine sugar and cinnamon in small bowl. Sprinkle work surface with half of cinnamon sugar.
Place dough on cinnamon sugar. Lightly press dough into sugar and roll out slightly with rolling pin. Brush dough with 2 Tbsp. butter and sprinkle with rest of sugar.
Starting with the longest sides, roll up each side jelly-roll fashion until the rolls meet in the center. Refrigerate dough 30-40 minutes or until dough is firm. Preheat oven to 375 degrees F. With serrated knife, gently cut roll into 16 slices. Place slices, cut side down, 2 inches apart on prepared cookie sheets; press down slightly to 1/2 inch thickness. Pinch bottom edge of each slice to form a heart shape. Drizzle hearts with remaining 1 Tbsp. butter and sprinkle with any remaining cinnamon sugar. Bake at 375 degrees F for 8-13 minutes or until golden brown. Remove to wire rack to cool completely; store at room temperature.
Editor's Note
Here is another article by Debra with more information about this holiday:
Comments

December 18, 2014
0

found this helpful
Great selection of recipes. I'm going to use the lettuce and orange pecan salad for Christmas Eve dinner. Thanks, Debra! Happy Holidays!