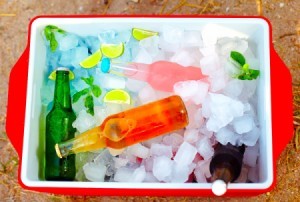 Use two small coolers - one for fruit and beverages, which will be opened frequently, and one for such perishables as meats, poultry, salads, sandwiches, and cheese.
Chill food thoroughly in the refrigerator or freezer before placing in cooler - the cooler cannot chill foods that aren't already cold.
Use store-bought ice packs, or make your own: Freeze juice boxes, or fill milk cartons or plastic bottles with water (leave 1-inch headroom at top to prevent bursting; fold carton over to close, or place cap on bottle before freezing). Pack perishables right next to ice packs. Keep fruits and delicate veggies like lettuce away from ice to prevent bruising and "freezer burn."
Fill cooler to the top (if necessary, add ice cubes or other cold nonperishables to fill space) - a full cooler keeps food cold longer than a partially filled one.