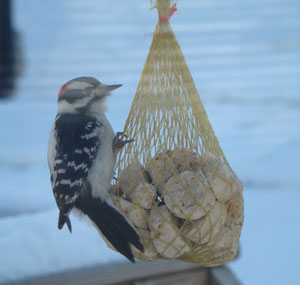 Homemade Suet In An Onion Bag
One way to make suet is to save the fat cut off of your meats. If I don't have enough to make a large batch, I've frozen the fat until later. Then I render that fat and add to that various things such as stale cereal, bread, cracker crumbs, oatmeal, you name it, anything grainy. I'll add the ingredients to the rendered fat. Mix it up until it's rather thick then pour it into a sandwich container. Place it in the fridge and when it has hardened, I pop it out and put it in a wire suet holder.
I've also used small muffin cups and then placed these in recycled onion bags.

Have fun!

The birds love this. I've never made anything and placed it out for them that they didn't eat.

By Teena from IN
Answers:
Home Made Suet
Please explain "render" to me, I'd like to make some for the birds using this method. (02/13/2008)

By Dede
Home Made Suet
What a thoughtful idea! Rendering is cooking the fat and harvesting what rises to the top when refrigerated, right? (02/13/2008)

By Nancy
Home Made Suet
Render= cooking the bits of fat until all the grease is out of them and they are floating in the grease. I use bacon fat left over from frying bacon. I also add any of the following: birdseed, oatmeal, bits of fruit and nuts, cornmeal, etc. I also make these in muffin pans and put out "cupcakes"for the squirrels, away from the birdfeeders. Cuts down on the critters raiding the birdfeeders :0)
Maggie O in Bloomington, MN (02/13/2008)

Home Made Suet
Please do not use onion bags or any other plastic netted bag. I did this for many years until one time, in the cold winter months, a bird got its' leg tangled in the netting. I was home at the time and was able to cut the netting away from the bird's leg. It was very traumatic for me and the bird.

If I wasn't home, the bird would have suffered and most likely died. So, please invest in the wire cages, they do last for a very long time. Please pass this information to any of your friends who feed the wild birds. (02/14/2008)

By Brenda
Home Made Suet
Here is a site that will explain rendering better than I can.

http://waltonfeed.com/old/soap/soaprend.html
(02/14/2008)

By doccat5