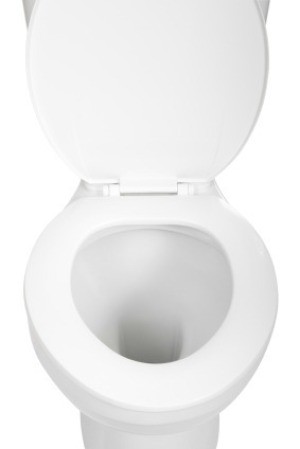 I knew I was becoming thrifty when I began making my own laundry detergent, fabric softener, and now disposable toilet bowl scrubbers!
These work well with the systems that have the retractable "jaws" to hold the disposable pad in place (I think it's the Scrubbing Bubbles one). The one with a cartridge that clicks in place won't work. Make the initial investment in the "jaw" type cleaner, but you'll never have to buy the expensive refill pads. Since I use these at least every other day on two toilets, making your own is very economical.
Disclaimer:
I don't know if you should flush these if you are on a septic system, may have faulty or slow drains or plumbing, or on a questionable city sewer system. I would toss in trash. Otherwise, I have had no trouble flushing them and we are on city service. Use your best judgment.
You'll need, per scrubber:
a small plastic container for mixing vinegar
baking soda
vinegar
essential oil
water
2 squares of a good quality paper towel
a food or vegetable dehydrator ($30 at major discount stores) is helpful
Directions:
Mix equal parts (about 2 Tbsp. each) of vinegar and baking soda with a fork in a small dish. Add essential oil of your choice.
Fold the 2 squares of paper towel together and then into fourths or fifths, then fold again in fourths or fifths into a little square.
Mix solution and dip the folded side of square into the solution 3/4 the way. Wait a few seconds to soak up. Repeat with remaining squares, stirring solution with fork before each dip.
Makes about six-seven squares.
To dry faster, use a food dehydrator and one screen. It may take a few hours. Check middle of folded towel to be sure it is completely dry. Dry towels will be very stiff and may flake a little soda. Use as you normally would a disposable scrubber.
Note: the baking soda and vinegar will react when you wet them in toilet bowl to soften water and remove stains. Please note this isn't a disinfecting solution. These are for daily cleaning. To disinfect, once a week, pour a cup of bleach into your clean toilet, soak for 10 minutes, then flush. That will disinfect your toilet.
Thanks.
Melissa
Editor's Note: If you use a bleach disinfectant in the toilet, don't use while using one of the toilet bowl scrubbers. Bleach and vinegar should not be mixed.
Comments
Read More

Comments