The recipe for the laundry soap is as follows. Feel free to add the anecdote if you like.
1 c. shredded or grated bar soap (I use the food processor to shred the little soap bars from motels, or buy soap at $1 store.)
1/2 c. super washing soda (Arm and Hammer) This can be tricky to find, but some grocery stores carry it. A & H toll free locator number is 1-800-524-1328.
1/2 c. borax (Borateem avail in laundry detergent aisle.)
This doesn't suds up. Use only 1 tablespoon.
I make a double batch of this and it lasts 6 months.
I recently was away from home for a few days. I had just made up a double batch of this homemade powder laundry detergent. When I got home the canister was almost empty. The housesitter did some wash and since the stuff doesn't suds up-she kept adding more. She used like a 6-month supply of laundry soap! I was not pleased.
By Linda
Answers:
Homemade Laundry Powder
I got this recipe similar to yours off the Recipe Goldmine website, but I've modified it.
First, I wear one of those paper masks while mixing and pouring my ingredients. There is a bit of "dust" and if you breathe it, it's not particularly irritating, but you can taste it as well. You can get about 5 of these masks for a buck at the $$ store.

Into a large bucket with a lid (I use the Tidy Cats large bright yellow bucket with a fold-back plastic blue lid and handle, works perfectly.), add:
equal amounts of washing soda (not baking soda) and borax, I think the ratio I used was 3 boxes of washing soda to 2 boxes of borax, to make it equal.
2 cups of baking soda
4 bars of grated Fels Naptha (a hand grater or food processor) soap
drops of essential oil (I use a combination of cedarwood, lavender,
eucalyptus, pine, spruce, and tea tree)
Mix all well with a large spoon, or close lid, and shake like I do.

I use one of those tiny scoops that I think came with protein powder, it's about 1/8 cup per load. You won't have suds at all, but grimy water almost instantly. I found by increasing the Fels Naptha to "four" bars for my ratio, it gets all the clothes, even my cleaning cloths and dishrags super clean. It smells lovely and very fresh.
I am shocked how clean it gets my clothes and towels, case in point.
I used a former popular liquid detergent known for it's great smell.
However, it never got the bathroom face towels (mascara, makeup, etc.) completely clean. With this, it's fantastic.
I label the top of the container with the date made, so far it's been a month. I should be able to get another 4-5 months out of this batch.
Should work well in Hi-efficiency washers too, since it's practically suds less.

1/8 cup works well. I use it with my homemade fabric softener (2 cups vinegar, 2 cups baking soda, 4 cups warm water, plus essential oils) and my clothes look and smell fantastic and I do about two loads a day with three kids under 8!

Thanks. This detergent is very economical and it's fun to make. (08/29/2005)

By Melissa
Homemade Laundry Powder
Regular soap can work (like Pure and Natural or Ivory), but if you use too much it can leave a residue over time. Fels Naptha is in the laundry section near the washing soda and borax, also similar brands are Zote. If you have allergies, it works great! My 4 year old can't have the Glacier Breeze or bleach alternative. We haven't pinpointed it, but figure who needs it anyway? (03/15/2006)

By camo_angels
Homemade Laundry Powder
I have my own recipe, my son has sensitive skin.
I use Ivory soap in my recipe, I grate it up with a cheese grater. Sometimes when I feel lazy I just grate about a third of a bar of Ivory and throw it in the wash by itself, it gets the job done. The scent is light, and our clothes are always clean. My son does not break out from it. The recipe I use is:
1 bar of Ivory soap, grated
3c water
1c borax
3 gallons of water
a five gallon bucket
Place 3c of water in a saucepan on the stove, add grated soap, simmer over low heat, stirring gently until completely dissolved. Fill bucket with 3 gallons of water, pour melted soap mixture into water, stir well, add borax and stir well. Let it sit a few hours, it will become like a gel. I use a one cup kitchen measure, I use 1 cup per load. It doesn't take long to make and it makes a lot. It works well, and a three pack of Ivory soap is around a dollar. I always have a bucket in the laundry room.
(05/09/2006)

Homemade Laundry Powder
Softer soaps should be left to dry out before grating, or you could freeze them to make it easier.
I mix in a food processor and use a small coffee can to store it. I use 1 bar regular or a portion of a bar of laundry soap (Fels Naptha, Zote) and 1 cup each washing soda and borax.
2 tablespoons in a large load (front loader) and my clothes are clean. Keep a chunk of ungrated laundry bar and moisten the stain or soap and rub it in- much cheaper than stain treaters!
(08/31/2006)
Homemade Laundry Powder
I have been using this same recipe for about a year now and I love it! Just use the recipe that started this post. 1 cup bar soap (Fels Naptha is what I use, sometimes hard to find, but once you find it, it is only about $1.25- $1.50 a bar. I have used Ivory, but I think Fels Naptha does a better job). 1/2 cup washing soda and 1/2 cup borax. So easy! 1T per load (2T if it is a heavily soiled or large load). Sometimes I grate up those bath bar slivers left over and throw those into my laundry soap as well.

For a fantastic stain remover: equal parts vinegar, ammonia, peroxide, and liquid laundry soap. Make sure to add the laundry soap last or it will foam up on you. Put in a spray bottle. Note: Don't leave on the clothing for a long period of time. Spray then wash.

My last tip. I love this one! Fabric softener. 6 cups water, 3 cups vinegar, and 2 cups hair conditioner. Find a hair conditioner that you like the smell of. It doesn't have to be expensive, you can even use something from the $ store. I like the Ocean scents, they tend to smell similar to Downey. Use as you would any softener. It won't leave a residue on your clothing or towels. (09/15/2007)
By mom2hhh
Homemade Laundry Powder
I have been using the liquid detergent since march of 2007 and in almost a year I have only spent about $35 on laundry detergent. Wow! I love it.

You can use just about any soap that you want. At one time I couldn't find the Zote so I bought Octagon and it worked just as well. When people hear how much we spend on detergent they just don't believe it. Oh well.

I also use this in my front load washer. (03/05/2008)

By gesus4gives
Homemade Laundry Powder
If you want to boost this recipe a bit, add a box of Biz to it. That stuff gets everything out! I "discovered" it when my stepsons both played football and the coach insisted he had "never" coached a losing team that wore white pants. All the mother's could have cheerfully killed him. Of course, the team did have a losing season, but after asking how everyone else was getting those nasty pants so sparkly white, I have become the queen of laundry! (03/08/2008)

USE SOAPNUTS INSTEAD!!!
Use Soapnuts instead. They are nuts from a tree that actually have soap inside of them, and when you throw about 5 or 6 into a sock and tie it, toss it in the machine, it washes so well! I use that now and 1/2 cup of baking soda to make everything whiter. Just type soapnuts or laundry nuts online, eBay is the best price. Thanks. (06/12/2008)

By sheila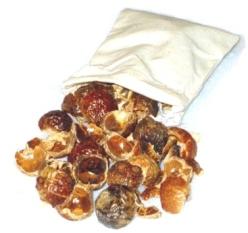 Homemade Laundry Powder
I make this powdered soap by first off making my own regular soap using lard, coconut oil, and lye. (You can Google soapmaking for proper procedure on how to do this. I use a 0% super fat in my laundry soap). I make a 5 lb. batch of unscented soap then grate it up.

I add the soap shreds I grated up to my Cuisinart with the S blade. I add 2 boxes of borax and 2 boxes of washing soda. I have to do it in batches so it all fits, but by grinding them all up together the soap becomes a powder and mixes with the borax and washing soda. When I am done, it nearly fills up my 5 gallon bucket I keep by the washing machine. I use anywhere between 1/4 - 1/2 cup of this washing powder per load.

A bucket of this lasts well over a year or more. I also keep a hunk of the homemade lye soap to use as a stain stick. I just get the garment wet in the stained area and rub some of the soap in. It lifts stains and even oil stains from clothing. I just throw in the hamper and let the stain stick/soap dry into the clothing. When I do laundry then I don't need to pre-treat. I just pre-treat when I am getting undressed and happen to have stains on my clothes. I keep the stain stick in the drawer in the bathroom so I can do this. (08/22/2008)
Homemade Laundry Powder
I started making the liquid detergent about a year ago and I am really happy with it. It is "not" an exact science, there are many recipes, but they all call for basically the same 3 ingredients.

I have even seen people use bar soap like Zest, Dial, and more. But the reason I am writing today is that if you decide to make the powdered version, you need to be "very" careful about grinding up the bar soap. When I used the mini Cuisinart today to do so, it was the right powder like consistency, but would also float in the air when the lid was opened to the processor. People who have respiratory problems, asthma, etc. may want to stick to the liquid or use a face mask when grinding up the soap powder. My lungs have been burning all day after making a batch of the powder.

That being said, the recipe I use is one part bar soap, I have used ZOTE and Fels Naptha; ground to a powder to 2 parts borax and washing soda each and I only have to use 1 TBS of mix on normal loads and 2 TBS on heavily soiled. I also use Oxiclean on whites. With 4 boys and a grimy hubby, it works wonderfully and lasts me for months. Once you buy the 3 ingredients, you should easily be able to make a year's worth or longer depending on how much you use. One whole year on less than $12 of supplies!

I switched to the powdered just to save storage space and time. I recently ran out and purchased a bottle of detergent for about $3 and I barely used it for a week. If you want to save and use more natural products, this is the way to go, and you can change the formula up a little bit to suit your liking and water hardness. Again, this is "not" an exact science! (08/25/2008)

By Lea
Homemade Laundry Powder
I use Zote bar soap. I can find it at Ultra foods or the local Mexican grocery store. I comes in a pink or white bar. I've made it with both and prefer the pink. It runs between 69 and 99 cents a bar. One thing I do is to dry out the soap before I use it. I open the package and let it dry for a week or so. When you shred it, it will be a powder rather than a shred. It mixes and dissolves quicker. I found this out by mistake. My son opened a package and then put in in the back of the cupboard. I tried it and it worked better than the shred. I make the recipe 6 times larger and it lasts a long time and I have 5 in our family. It also works for my husband who is sensitive to laundry soaps. (12/19/2008)

By jgoebel
Homemade Laundry Powder
Also, I used blue Coast soap to make this recipe and it turned the white buttons on my blouse yellow. I don't recommend using a soap with a color in it to make this recipe. (01/14/2009)

By Annie
USE SOAPNUTS!!!!!
Thank you for those that spoke about the soapnuts. http://www.naturoli.com/soapnuts/
I just bid on some from eBay called NaturOli. I read that with these all you have to do is add 3-6 nuts (in a sock or similar) to the wash for 3-5 cycles.
I am looking forward to using them. I have heard nothing, but good things. I also have been using the powdered laundry detergent for about 2.5 years and wouldn't go back to store bought. (02/10/2009)

By RabeAK
Homemade Laundry Powder
I disagree about it not removing stains well. I use a mixture of 2 bars of Fels Naptha, 2 cups borax and 2 cups washing soda. On my whites and anything extra dirty, I use 3 Tbs per load in my top load. The key to getting stains out is special attention. My son played football at his birthday party in his brand new khaki pants. It rained the day before so they were black when he finished. I brought them to the laundry room and immediately went to work on them by filling the washer as usual with the detergent, only I didn't load the rest of the clothes until I was done with the pants. I scrubbed them while they were in the water and they look brand new again! This is an excellent detergent recipe for stain removal. (02/16/2009)
Homemade Laundry Powder
About the "dust" put a damp rag over the top of the food processor. (10/08/2009)

By stephlw19
Homemade Laundry Powder
Here's the recipe I used. It works great. It will last me forever!
Home-made Powdered Laundry Soap
1 large box of baking soda
1/2 box of borax
4 scoops of Oxiclean (the non-bleaching kind)
2 bars grated Ivory soap
Mix all ingredients together in a large pail with a lid. Keep away from animals.
Use 1 to 1.5 tablespoons of detergent per load. Do "not" use more than that!

* Do not use colored soaps. They can stain buttons.

** Use 1/2 dryer sheet instead of a whole one with this mixture. May use a whole dryer sheet in the winter when there's more static, but I've found normally 1/2 sheet works fine.

** The Dollar store's version of Oxiclean is fine as long as it has no advertised bleaching power. Much cheaper than buying it for $7+ per tub at Walmart.

You can substitute the Oxiclean with "washing soda" aka sodium carbonate if you can find it. Arm and Hammer makes some and may be found in the laundry aisle. (04/27/2010)

By Shandi