I have a very old "silver" sugar bowl from the Dollar Steamship Line. It isn't marked with the words "sterling silver", but it says it's from the International Silver Co. It is also marked with the inscription 8OZ. Any help?
By David from south TX

Answers:
How Can I Tell If Something is Made of Silver
A good way to tell is to try using a magnet on it. If the magnet sticks, it is not pure silver. This is also a good tip for people traveling and planning on buying silver jewelry from street vendors.
You might also take it to a local antique store and see what they can tell you about it. (11/05/2009)

By jess
How Can I Tell If Something is Made of Silver
My grandmother and great aunt worked for International Silver in Meriden Connecticut around the 1940s so I have quite a few of their pieces. A lot of their pieces were silvered glass (see photo), but they also have solid silver as well as silver plated pieces so your sugar bowl could be either one. All of them have been popular among collectors and if I remember correctly, International Silver (still in business as far as I know) is the oldest silver crafters in the U.S. As for the 8oz, sounds like it holds 8 ounces or 1 cup. (11/07/2009)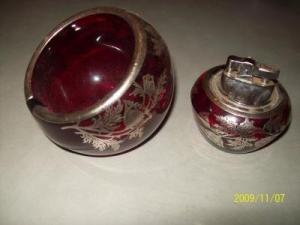 How Can I Tell If Something is Made of Silver
One sure way to tell if something is silver is to use a little diluted bleach on the item. If it turns dark then it is silver. I have some silverware that are silver. I discovered this when I accidentally placed them in dish water with bleach in it. By the way, the other pieces of silverware did not turn, only the silver pieces. Thanks. (11/08/2009)
By nunley10