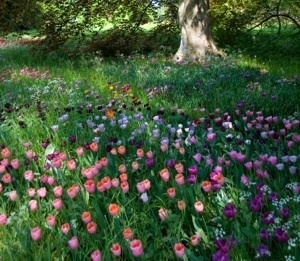 We've all seen the pictures. Masses of tulips or hyacinths growing like wildflowers among trees or in grassy meadow, looking like they've been there since the beginning of time. These bulbs have been naturalized. Achieving this look isn't hard, as long as you keep a few basic principles in mind.
You Need the Right Site
To achieve the "wildflower effect" naturalized bulbs are usually set in a woodland or grassland environment. For gardeners limited by space, a cluster of bulbs planted in uncut grass around the base of a tree, or a small patch left wild in the corner of the garden can create a striking effect.
Woodland sites: Make sure it allows enough sun for the bulbs to grow and flower.
Grassland sites: For the best effect, grass has been left to grow wild (not manicured).
You Need the Right Bulbs
Mixing multiple types of bulbs or planting a single species will give you radically different looks, so search online and in gardening books to get ideas. Also keep in mind that if you choose spring-flowering bulbs, you'll need to wait for the flowers to go to seed and the foliage to fade (up to 6 weeks) before cutting the grass. This is so that the bulbs have time to produce and store food for next year's color. If you choose fall-blooming bulbs, you'll need to stop cutting grass in late summer/early fall to allow the shoots ample time to grow and bloom.
Ideally, the bulbs you choose should:
Grow tall enough to be seen, but not so tall that they appear unnatural.
Be vigorous enough to compete for nutrients with surrounding turf and (if necessary) hardy enough to stand up to a harsh winters.
Maintenance-free (don't choose bulbs that require staking, deadheading, etc.). If you need to fertilize bulbs, do it in the early spring. Just make sure you don't use a "weed and feed" mixture or you may end up killing the bulbs.
Achieving the "Natural Effect"
Use a spade for mass planting instead of digging hundreds of individual holes. Start by cutting the grass, Then peel back the sod and remove the soil to the required depth (approx. 2 inches for small bulbs and 4 inches for larger bulbs). After loosening the surface of the exposed soil, place the bulbs where you want them and replace the sod. Water the area thoroughly.
Wildflowers don't grow in perfectly spaced rows, and neither should naturalized bulbs. Dropping handfuls of bulbs and planting them wherever they land will help create a more natural look.
Comments

October 15, 2009
0

found this helpful
Could you please tell us some of these bulb names in your photo, thanks

October 17, 2009
0

found this helpful
I really love this idea. I never knew I could sort of "peel back the soil." We had a tropical storm over our area about two years ago that dropped over 11 inches of rain, and the next spring, we had bulbs coming up that we never even knew were there. They are really beautiful.