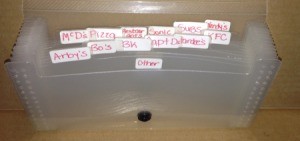 I receive many of my coupons through my email and digitally. However, several fast food establishments and restaurants still mail out paper savings flyers. To be honest, I have missed some great deals because I could not find the right coupon when I needed it. To remedy this, I decided to organize my deals in a small expanding coupon file.
There are a few ways you could sort your coupons, including from A to Z, by cuisine type, or by restaurant name. I chose to combine the last two, as I usually frequent the same places. My dividers include: Other, Arby's, Bojangle's, Burger King, Captain D's, Hardees, KFC, McDonald's, Pizza, Restaurants, Sonic, Subs, and Wendy's. I have numerous pizza and sub chains in my town, so that is why I kept the labels generic, to include them all.
I rarely eat at restaurants, so having one divider for these is enough for me. Moreover, the 'other' section is in the front of my file, which will include eating establishments in other towns that I may visit. Whatever way you decide to organize your file, it will make locating those coupons so much easier! I even keep mine in the car, so it will be at my fingertips in the drive-thru.