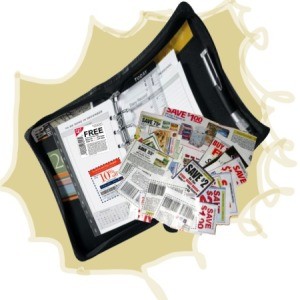 I think it's safe to say that most of us have, at some point or another, purchased an expensive time-keeping system such as a Day Timers - you know, those nifty organizers that come with date, notes, and addresses tabs, a cool leather case replete with penholders and extra storage sleeves, and refiller paper you can purchase every year. After the year runs out (generally with most of it remaining empty) we often store these on some shelf because we can't bear to part with the investment.
I had at least 4 around the house for some reason, and finally found a great use for them!
I decided to use it to store and organize my coupons.
With the Day Timer, I can keep all coupons in order of expiration and category, by taping each coupon to one of the pages (you can even do this with pages you have already filled up with writing). I use the monthly tabs to organize the coupon in terms of months (the ones that expire in July are stored within the 'July' tab, for instance). I add my own tabs for categories such as 'Cleaning Supplies" or "Food", within the month. I store unsorted coupons in the folders, I keep a pen and a small pair of scissors in the unit, and even use the 'TODAY' ruler that comes with each Day Timer to hold my place when it's time to go to the store.
All in all, the Day Timer is a neat, portable, and perfect coupon home, and a great way to repurpose an excellent though expired resource.