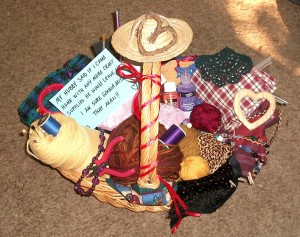 I remember being married and having my husband just shake his head when I came home from the thrift shop with yarn, fabric, paint, etc.
Years later, I thought of some of the sites that talk about a thin line between a hobby and an obsession.
Well, I got out a fun basket the other day, and just started to fill it with all manner of craft things. You can do this for a crafter's party, a quilting bee, or other fun party where there are a lot of folks who love to do a lot of crafts.
To bring a chuckle to everyone, you simply put a hand written or printed note in it saying "My husband said if I brought home one more piece of crafting supplies he would leave me. I am sure gonna miss that man".
Most couples have felt this way from time to time, so why not make it into something cute?
I hope you have as much fun with this as I did.
Sandi/Poor But Proud