May 14, 2021
1

found this helpful
Are you sure your clock is a grandmother clock?
This is very important as there are differences between the grandmother and grandfather clocks.
"Grandfather clocks are between 6 and 7.5 feet tall. In the grandmother clock vs grandfather clock debate, thats the key difference to remember.
Just like the grandfather clock, grandmother clocks are free-standing clocks with long cases and pendulums to keep time, but they are also smaller than grandfather clocks. A typical grandmother clock will be between 5 and 6 feet tall, designed to fit more effectively into smaller spaces/homes as it is also usually narrower than the grandfather clock.
I just want you to be sure that your clock is a grandmother clock and not a grandfather before you ask for information/value.
Also, most people do not really know the difference and many will list a grandmother clock as a grandfather clock.
Grandmother clocks do not seem to be as popular as grandfather clocks and do not always sell for as much money.
You will find grandfather clocks listed for sale as low as $99 and into the thousands but it is not always easy to find one that sold online for very much money unless it is sold by a dealer.
Without knowing more about your clock I do not think it would be wise to quote a 'value' but you can ask about your clock on this site and see if they can help you:
www.facebook.com/.../
There is a lot of information online about Seth Thomas clocks but finding value means you have to find an identical item that has sold as this shows what someone was willing to pay for that item.
Clocks are slow sellers and very expensive to move so most sellers (except shops) list their clocks as 'local pick up only'.
You can search for an identical clock but it will mean looking at many listings/photos and you still may not find it. You can also try asking your questions on clock forums as they will know what the numbers mean and may be able to help with value.
There are several forums available but you can check these out:
www.clockworks.com/.../seth-thomas-movement-identification
www.discoverclocks.com/antique_clock.html
mb.nawcc.org/
www.grandfather-clock-info.com/grandfather-clock-forum.html
Here are some photos of Seth Thomas clocks:
www.antiqueclockspriceguide.com/makerresults.php?m=Thomas,_Seth
A very good site to visit for information is Reddit:
You have to join and post pictures but the answers are usually reliable.
www.reddit.com/.../
May 15, 2021
0

found this helpful
Thank you for your information, I believe it a grandmother's clock because the person who gave it to me was 90 & she said it was its 6 & a half feet high 8 inches deep "wall to outer clock.17 & a quart inches long .would like to know the year it was made .as it has a engraved print on the back ,as showed on the back in this picture. Thank you for your insight as well.
May 15, 2021
0

found this helpful
If your clock is over 6 foot high it would be considered a grandfather clock.
All of your numbers mean something but it does not appear that these numbers are on any of the information sites pertaining to Seth & Thomas.
That is the reason I provided the links for you to submit your questions as these members have access to other information that is not available without paid membership to special sites.
You will have your answer to dates quickly if you join the groups and ask. Joining a group is free.
May 16, 2021
0

found this helpful
Thank you for your information on my clock & leading me in the right direction. Here are a few additional pictures of the inside.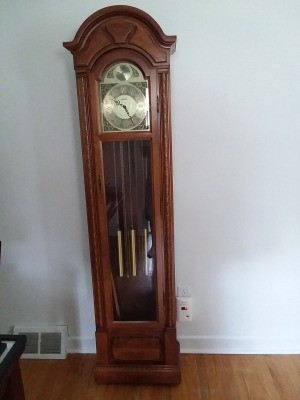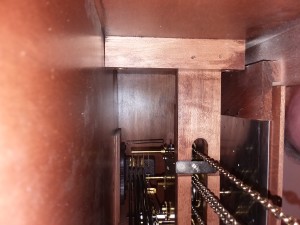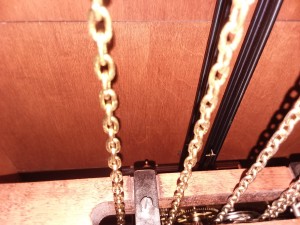 May 17, 2021
0

found this helpful
Thanks for the full picture as this is needed to ID the clock but the 'face' on your clock is more detailed than most so that will probably the biggest one thing that will help with finding more information.
Present the pictures and measurements to the sites listed and let us know if someone provides more information.