We bought grandfather clock in 1999. Sadly my husband past away and I need to downsize, I am looking to sell this beauty, but have no idea of the value.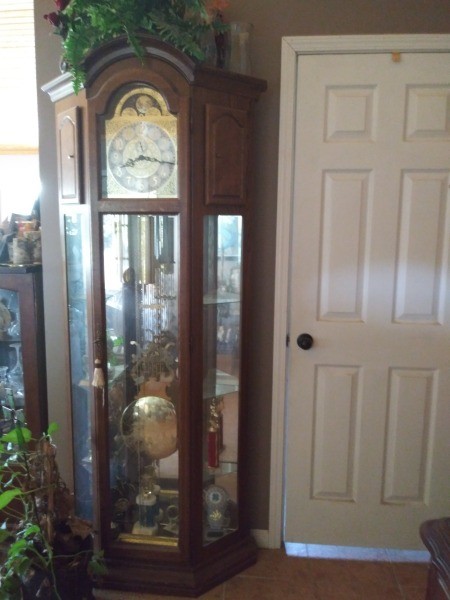 Any help would be appreciated.
A picture of the label is included in the pics.
Label says
United Furniture
Pennehuisstraat 41 3690 Tilden
Invoice #M16818
Ref fax 01/02/99
Clock #557 Garmisch
Color E40
Grandfather movement 3 chimes U
Moonphase dial C8
Pendulum C Neuschwanstein
Brass etched weight shells
With Socle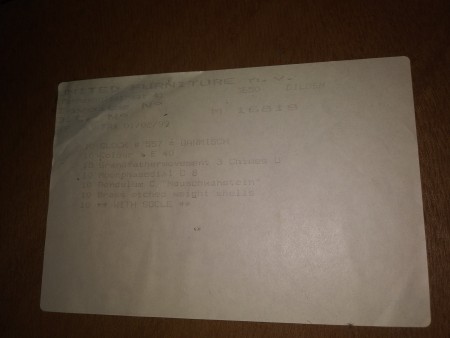 poehere
Bronze Post Medal for All Time! 105 Posts
June 18, 2020
1

found this helpful
Best Answer
There are many different makes and models for sale online. The prices seem to vary greatly right now. The low end clocks asking price starts around $80 and goes up from there. The mid range clocks are selling or the asking price is around $250-350 and the higher range closes start at $600-5000.
Most clocks like this and the one you have sell for around $350. Try and sell this locally and not online because shipping this clock to the buyer can get quite expensive and that means the person normally won't want to pay for this cost.

June 19, 2020
4

found this helpful
Best Answer
First off, my condolences on the loss of your husband. I lost mine almost 17 years ago, so I know some of what you're going through.
Your clock is certainly not old enough to be considered an antique, but it is a beauty just the same. There are so many things that factor into a clock's value, that you really should get it appraised by someone who knows grandfather clocks.
If there are any clock repair/sales stores near you, you could take some detailed photos and all the info on the label to them and see if they can help with a ballpark figure on it's value. They might even do it for free if you explain the circumstances of why you need to know. Good luck.

June 20, 2020
1

found this helpful
Best Answer
You have a lot of information about your clock and it does appear to have been made in Germany but this is a label that apparently shows everything about the clock but does not show a brand name.
There were many clocks made in Germany and sold to stores/companies that used their own names so this more or less seems to make your clock something like a 'generic' clock and probably reduces the value over similar brand name clocks.
Brand name clocks may have the same or very near the same mechanisms but the name itself will increase the value.
I do not believe your clock is a brand name or it would have been shown on this label/certificate. But, just in case, you should look all over your clock to see if you see any marks or names that might give it more identification.
It seems that "United Family" is a large organization of stores but I'm not sure how all of that works.
Also, 1999 is still considered 'modern' or almost vintage and that just puts it in competition price wise with regular clocks in many furniture stores.
You do not say where you live but most of these clocks that are individually owned are sold a 'local pick up only' which means the area where you live will have a very large baring on the final value of this item as shipping cost would probably make it out of the question.
You can check this link to eBay's grandfather clocks so you can get an idea of how to list your clock should you decide to post it for sale. You will need several very good pictures (your posted picture is not good for this as it is too far way and also too dark for viewing) and also a good detailed description.
www.ebay.com/.../i.html?_from=R40&_trksid=m570.l1313...
If you check the internet for sold listings *eBay also) you will find that most sellers list/sell as pick up only. Companies/stores may ship but still expensive and usually only very expensive clocks.
You may be able to find out more about your clock if you post several good close-up pictures and information on several of the grandfather clock forums.
www.grandfather-clock-info.com/grandfather-clock-forum.html
www.discoverclocks.com/clock_forum.html
www.treasurenet.com/.../94285-grandfather-clock.html
You can also try for a free appraisal: