DianaHM
Silver Answer Medal for All Time! 440 Answers
March 29, 2021
1

found this helpful
Best Answer
As I understand it, your doll has a stamp on the back of her neck, where it is written Royal Cathay Collection (as in the screenshot I attached), so you should have no doubt that this doll is from the Royal Cathay Collection.
4000-5000 means that you have one of 5000 pieces.
You have Royal Cathay Collection large Porcelain Girl Doll #4000. The size of the dolls in this collection is 21 inches, you probably mean it by saying that it is bigger.
The price of the dolls from this collection is $29-40
www.ebay.com/.../510027227
www.ebay.com/.../124528800644?hash=item1cfe7eb384...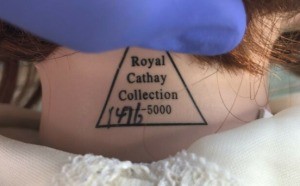 March 29, 2021
0

found this helpful
Best Answer
Cathay made 2 series of dolls entitled 'Royal Cathay Collection;
one series measure 16' and seems to be mostly beautiful 'lady' dolls.
The second series measures 21" and seems to be younger children/babies.
Your doll fits in the second series at 21".
All brands of dolls are considered low value right now and very few (other than antique or true limited edition dolls) are selling for more than $25-$45 and the majority are selling for under $20.
Also, dolls are very slow selling items; some sellers have dolls listed for sale for years and they may never sell.
Checking this collection on eBay's sold listings I only see 2 dolls that have sold in the past several months and both were under $30. here is one doll that sold for $30; looks like a lovely doll, new in the box:
www.ebay.com/.../265090957745?hash=item3db8a701b1...
Comparing this doll is okay because it appears no doll from this collection is in anyway a 'special' doll so prices should be comparable.
How does your doll compare?
If this doll is only valued at $30 then it would seem that your doll (in her present condition) would probably be valued at less then $10.
It appears your doll may not have original clothing as she appears to have on parts of 2 different outfits. I'm not sure if she originally had shoes.
Your doll looks like she would be a great find for some young lady if presented for sale at a local yard sale.