September 24, 2015
0

found this helpful
I searched online for "garbage effect on community" and received many replies for this-one example:
www.ncbi.nlm.nih.gov/.../15622937
You can try using various search parameters and should be able to find many sites for your subject.
September 25, 2015
0

found this helpful
If you are talking about the effects of litter on a community, I love talking trash.
I have been picking up litter since 1987. It really bugs me when I ride through a community and see litter everywhere. To me it represents a community that does not care.
I have formed a team of volunteers from our community that keep a 2 mile stretch of our roadside clean. It is lined with open farm fields, pastures, woods and just a few houses near the road. We meet every 6 weeks and do a trash walk. We split up and go in opposite directions and pick up the litter. Everyone enjoys the exercise and fellowship and it's a great way to meet your neighbors.
This group started with 6 volunteers on April 13, 2013 and we have met 11 times. We have picked up over 100 bags of trash on our road. There is a community dump site at the end of the road and most of the trash comes from unsecured loads and the trash being hauled from the dump to the transfer station.
At first we met about every 3 months and in March of this year, we decided to meet every 6 weeks. Meeting more often makes it much easier and more fun and it keeps the road tidy. In the winter months, we just wrap up to keep warm.
Our group has grown from 6 volunteers to 15. It would be 18 but we have lost 3 due to health problems. About half of us are retired and getting older so I'm hoping the young ones will keep it going when we are no longer able to help.
It's not always convenient for everyone to show up every time, however, with 8 volunteers we can knock it out within an hour or so.
Litter will always be a problem and the only solution to end it is, pick it up.
If you want to read about litter, just google picking up litter. You will get a lot of information.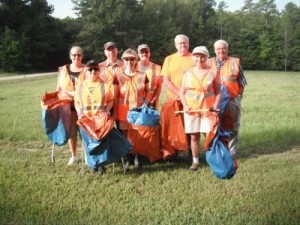 September 25, 2015
0

found this helpful
You can google "Impact of trash on community" and find a lot of information about how trash affects the environment.
In my posting below, notice in the picture that we have orange bags and blue bags. We get our bags from Dept. of Transportation. They are reversible. Orange is for trash and blue is for recycling. About 1/2 of the trash we pick up from the roadside is recyclable.