Debra Frick
0

found this helpful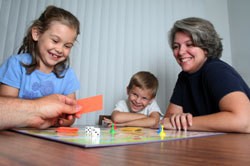 As parents, we are always looking for fun ways to spend time with each other. Here are some great ideas that don't cost a lot of money, but are big on the fun factor and just might teach your children something. You may not believe that you are creative, but you might be surprised at how creative you can be.
Star Bright Party
This is something you might want to do when the weather is warmer, but you can still do this when the temperature is a little cooler. Spread some blankets out in your yard and lay back and look at the stars. What would a party be without some kind of food. Plan on serving some hot chocolate and donuts, if it is on the chilly side, or watermelon if it is summer. If you live in the city, some sights in the sky will be blocked out by the city lights, but you still should be able to see a lot.
You can see most of what the sky has to offer with the naked eye, but if you would like a closer view, a telescope will be your best bet. Telescopes can be bought cheaply at Walmart, but if you don't want to make that investment, try borrowing one or you can always try for one on Freecycle. You will want to know what to look for when you are out there, I found this website that gives daily stargazing tips http://stardate.org/nightsky/weekly.php. It can really tell you what will be visible on the date you select. It also has a constellation guide and a moon phase calendar. Be a star explorer! If you don't know the name of a group of stars, make up a name and tell stories about your planet. Using our imagination with our children helps to foster their creative juices. Play "Star light, Star bright" and make wishes.
Re-write that story
You and your children have just watched a movie and everyone is groaning about the ending. Have your children get some paper and pencils and have everyone write an alternative ending, how they would have liked to see the story end. Tell them they can start their story from where they think the story starting going wrong and take it from there. Pick one person to be the judge with the winner winning a ribbon for best screenwriter.
Grocery Store Hunt
This is a great game to teach your children how to read labels, teach about money and how to spend it. This will cost you about $15.00, depending on how many children you have. Give each child $5.00 and tell them they need to buy the most lunch that they can for their 5 bucks. Tell them that the most nutritious lunch will get extra points, junk food will get points deducted. Before you leave home, make a small chart about points for certain foods (like an apple is worth 5 points, salad from the deli is worth 30 points) with whoever gets closest to 100 points wins. Have points for buying a loaf of bread and sandwich fillings that will feed more than just themselves.
This teaches that quantity is sometimes cheaper than a single serving. Award points for the least amount spent. Teach them how to read the labels and to show how many calories are in that can of Spagettios. Teach about the empty calories in TV dinners and how fresh foods are really the best. Try not to roll your eyes when they head to the potato chip aisle. Teach them about the calories in potato chips and how there are better choices. Try not to pick their food for them, this is how to teach them to make their own wise food choices. Now take them home and let them prepare and eat what they have chosen.
Recycle Day
Have your kids take the things that would normally go in the recycle bin and tell them that these are the building blocks for making their own toys. 2 liter bottles can be cut in half and used as a ball toss game. The bottoms can be used as molds for flower shaped paper holders or as stamps for fabric painting. They then color, cut and paste to their heart's content. Old margarine containers can be used to build buildings or make doll furniture. Old boxes can become blocks or buildings for a race track.
Artist Day
Take your family to the local arts and crafts show to get them in the mood. Most are free. If your family is anything like mine, you have crayons, paints, markers, and assorted color pencils all around your house. Tell your kids it is "Artist Day". Get in on the act, draw with your kids. Pass out some assorted art supplies. Put on some classical music and have them draw what they feel the music is telling them. String a string across the room and hang their works of art. Have each artist's name and explain what they have drawn. Have everyone vote which is the best and hand out a certificate for the Picasso award. Hang the best in the living room and the runners up on the refrigerator.
Game Day
Pull out your board games and set up in your dining room. Make some good healthy snacks. Play games with your children, but don't stick to the rules, make your own. After you have played all your favorites, talk to your kids about what they like about each game and brainstorm about what things they would like to combine to make their own game.
Pull out some paper and write down your ideas. Using paper, map out your board game. Markers can be made from old lids from sodas or drinks or use old pieces from another game. Spinners can be made out of paper plates and a paper arrow. Have the kids color the board game squares.
Make up your own rules as to how the game is to be played. Glue game board to cardboard. You will be absolutely amazed how creative your children can be, you will be promoting that creativity and you will be teaching creative problem solving. Next weekend, let them invite their friends to come and play their new game.
Plant a Salad Garden
You don't have to have a big yard to do this one. Salads can be grown on a patio or balcony, even in the city. Talk to your kids about what they like in a salad. Decide on which things you would like to grow. Go to the local Walmart or your hardware store and buy some seeds. I have bought seeds for about 10 cents a package at the local hardware store. Walgreen's even sells seeds very cheaply.
Gather a bunch of flower pots together. You can even use large margarine containers. Have the kids decorate the pots and label them. Fill each pot with potting soil. Plant your seeds. Most will sprout within 10 days. You can grow lettuce, spinach, tomatoes, spring onions, even carrots if you have a deep enough pot. With carrots, they will only grow so long depending on the depth of your container, but will be perfect for a salad. Remember to remind them to water their plants and then reap the benefits. Your children will learn how things grow and patience. When you have used all your plants for salads, replant the containers. You can have fresh salad all year long. Just put the pots in a sunny window.
Comments
By (Guest Post)
February 24, 2007
0

found this helpful
Would you be my mommy?
Great ideas, thank you. I love the $5 lunch idea, this could be used for a school field trip, say during a health, or nutrition class.
Kelly
By starchild (Guest Post)
February 26, 2007
0

found this helpful
Love the ideas. I think it would be better to pick something that would usually be garbage(not able to recycle) and use that for your imagination/creativity. Plastic bottles become carpets and polar fleece when recycled. Garbage just takes up space in a landfill. If you find a new use for "garbage" you are doing a little extra to save the earth. Thanks for listening!
starchild