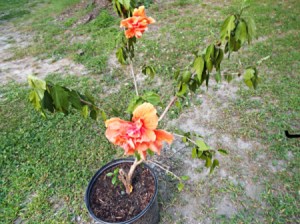 Omniscience would have to be very boring. It would be pointless to have a conversation with a friend, knowing all the while exactly what you and they would say. Every sentence would be like déjà vu all over again.
I'm glad we have mysteries. They give life intrigue and awe. A reason to ponder, a spark to set the imagination afire. A beauty unfelt by the all knowing, all seeing.
My hibiscus rosa-sinensis is in the throes of death. Several limbs have died, one at a time. I don't know why. I kept pruning them off as they declined. The whole affair was a mystery to me.
Today, I noticed how sad the entire plant looked. It is giving up the ghost. I will miss what has been a beautiful plant. It often continued to bloom while kept indoors over winter.
The real mystery here is what drives this plant to make a last ditch effort to continue its own kind. In its final hours, with the rest of the plant almost gone, it produced one of the largest flowers of its lifetime.
The Universe is teeming with stellar nurseries where baby stars are born of and nourished by, the remnants of their deceased parents, always continuing after their own kind. Even so, with the Earthly hibiscus, there is indeed life in death.
Gardening is only as interesting as you are.