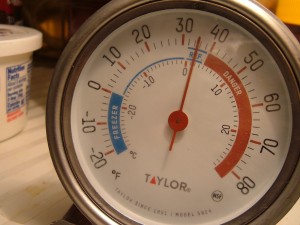 In 2021, we used more electric (kWh) than we did the year before, causing our electric bill to be over $200.00 more for the year. I have been trying to figure out why. Recently, I noticed that our 1994 refrigerator was not cooling like it should and when the milk soured way before the expiration date, I knew something was wrong. I started searching the internet to see how much it was going to cost to get a new refrigerator.
Our daughter, who has gotten to be a real handywoman, wanted to see if she could fix it so she pulled up "YouTube" on the computer and found instructions on how to repair a refrigerator that is not cooling. First instruction is to clean the coils.
I had been keeping the coils clean by running a coil brush between them ever so often and pulling the refrigerator out and keeping the floor and back of it clean.
After cleaning what she could from the front and the back openings, she and her dad tilted the refrigerator on the side so she could reach underneath while he held it up. I wish I had taken a picture.
Using the coil brush, she removed wads of caked on dust (28 years' worth) from the back side of the coils, and in the same area, the grate in front of the fan. After she removed as much as she could, I swept up the debris and she used the Electrolux vacuum cleaner to blow out the little bit of dust that was remaining.
Looks like all it needed was a good cleaning so it could breathe. It has been over a week and it's still cooling like new, and it does not run all the time like it did. We don't need a new refrigerator, not yet anyway.
To extend the life of your refrigerator, keep the coils clean. Search YouTube to find out how. I'm hoping this is what was causing our high electric bill. Time will tell. I'll let you know if this was the culprit.