Keep your pets inside on the night of July 4th. Anytime the fireworks are going off, keep them in and give them a Kong filled with peanut butter. It is like a puzzle with food in it, the pet has to figure it out.
There are calming aids that can be given to dogs and cats.
Doc Roy's Docile Dog - This is a natural product. This calms anxious dogs down. Comfort Zone with DAP for dogs is also a good product.
Feliway for cats is a good calming product for cats.
I would start a few days before July 4, and go on a few days afterward. Start earlier if there are more fireworks earlier than this.
The reason you want to calm them and give them toys that are hard to figure out, such as Kongs, is that they could easily become anxious over any loud noise and this would make them nervous. July 4 is very traumatic for a dog or cat who is afraid. Most of them are. Talking and scolding do not do any good and can cause harm.
For more info, go to:
I occasionally buy things I need from these sites. They are great, and I trust them for ordering online.
By Robyn Fed from Tri-Cities, TN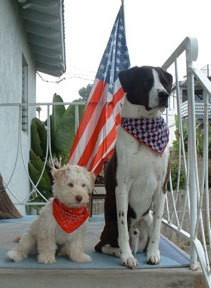 Water your yard to prevent fire works from setting fire to the grass and perhaps the car or the house. Keep the pets inside. It's the worst day of the year for pets. Dogs run off more often on the Fourth of July than any other day.
By Ardis
Write on Their Collar
If you don't want to buy dog tags, use a collar you can write on. Black or very dark colored collars won't work. I write my phone number on our dog's nylon collar using a permanent magic marker. Check it occasionally, sometimes you may have to write over the phone number since it may wear off. I have been doing this with all our pets. Fortunately we have never lost a pet. Also, if we have visitors who bring their dogs, we use tape with our phone number on it, just in case.
By it's.only.me
Mask The Noise
My dog is afraid of loud noises and we leave the fans turned on to take some of the noise away. I found if I turned the TV sound up, that helped dull the sound of all those bangs and helped my dog be much calmer. Thank heaven for that!
By Sara
Keep the Car Running
The funny thing is; Ally is afraid of loud noises also. We can always hear the fireworks at our house. This year, I took her up the street to the fireworks and we sat in the car with the engine and air conditioner running. I also had the radio on. I couldn't hear the booms at all. She just sat on the seat. I think she was bored, but the noise level was better than had we been home. I knew I shouldn't take her but her seatbelt was on, etc. so I knew I had her cornered. Besides, if she had been afraid, her mom (me) would have taken her home.
By sandy
Editor's Note: I lost a dog years ago on the 4th one year and was never able to find her.
Make sure your pet has a tag with his/her name on it and your phone number. You can make your own at PetSmart or Petco for about $6. I've found pets and have been able to return them to their home quickly if they have a tag.
We also noticed this year that a couple fans running on high helped calm our dog and masked the sound of the fireworks. She was less anxious than she was last Fourth of July.
Read More Comments