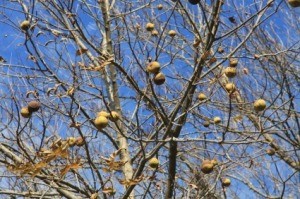 I can't stand the mess... Every morning I'm cleaning up after about 6 squirrels who are feasting in my wild (100 year old) walnut tree. What do I do to keep them away? My yard is a disaster; I spend hours cleaning up all the shells and the outer-coat of the walnut. It's a mess also because the outer-coat of the walnut stains everything it touches... What can I do to stop them? They are getting to the tree by the truck, and from the top of Garage. There no way to isolate the tree from these pests...
Any ideas would be greatly appreciated.
Thanks,
Steve
Answers
By Edna (Guest Post)
September 3, 2005
0

found this helpful
My husband has used a "humane trap" and has captured over 200 squirrels in the last 2 years. He then takes them to a community park and releases them (occasionally he takes them into an undelveloped wooded area). With our large grove of trees it has worked beautifully. He also does the same with chipmunks, of which we always have a healthy crop. He "seeds" the trap with a handful of oiled sunflower seeds for both of the pesky little creatures.
By Bonnie (Guest Post)
September 4, 2005
0

found this helpful
you can't..you have two options...get rid of the tree or haul the squirrels away as stated above.
Trees are for squirrels, it is nature, I am sorry, they do not live in apartments and go to McDonals to eat!
It is just their nature
We have chipmunks and can not do anything about THEM, we have tried everything, so now we just plan around them, if we want to plant something, etc. we have to determine whether it is even worth it , etc because of where they are and what they do.
You really don't have too many options about natures creatures.
By bettyboop5382 (Guest Post)
August 6, 2008
0

found this helpful
I saw your post when I was looking for a solution of what to do about the squirrels in my walnut tree. Your problem sounds so much like my situation. I finally decided this large tree is getting cut down. Even my dogs can't keep the squirrels out because they get in the tree from the roof of my house. I had the tree trimmed really good about 2 years ago and it grew back as fast as a weed so that's really not a good solution. I'm getting too old for all this aggravation. I'm curious. What did you finally do about the problem?
Read More

Answers