How do you keep a cat from scratching up your furniture besides buying a cat post? Is there something I can spray on it?
IMAQT1962 from ILLINOIS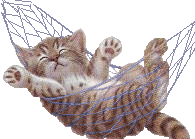 Answers:
Keeping Your Cat From Scratching Furniture
We have two cats that used to like to scratch our furniture too. We bought some of that spray-on stuff that smells funky and is supposed to repel them. The only thing was, it repelled us, too. So we ended up buying several little squirt bottles (water pistols leak too much) and put them within easy reach in each room where they like to scratch the furniture. We filled them with water, and then every time we heard the tell-tale scratching, we'd yell at them and squirt them like crazy. It doesn't hurt anything except their pride, and now our cats only scratch their scratch box. Have fun! (05/14/2007)

By Beth - MA
Keeping Your Cat From Scratching Furniture
The way we stopped out beloved Persian from scratching the couch and chair is to tape aluminum foil to the places she liked to scratch. Looks a bit funny, but they will get the hint in a few weeks. I actually read this tip for places other than the litter box where they like to potty. A cat will usually go back to the same spot. Just tape tin foil over the spot, and it doesn't hurt to have a clean litter box right next to the spot. (05/15/2007)
By Margie
Keeping Your Cat From Scratching Furniture
I had a cat that ruined a couch (it was on its way already though). When I got the new couch, I got the spray on stuff and it worked. I didn't notice any ugly smell with it. I don't know the brand I got, sorry. But I did buy a scratching post at the same time and saturated it with catnip. The cat became very interested in the post and when she would go near it, I would pick up her front feet, push her claws out and scratch the post for her. She soon got the idea and never again scratched the couch. (05/15/2007)

By Noella
Keeping Your Cat From Scratching Furniture
I heard alum powder, it's used for dogs. You need to research this product for cats. Many products cannot be used for both dogs and cats.
Jennifer CA (05/15/2007)

By jjager
Keeping Your Cat From Scratching Furniture
Years ago I used the spray on stuff for furniture and it works. But for my present cat who is now 13 yrs old, I only clapped my hands and said "no." She is trained pretty much like a dog. I think when she was scratching, she was really trying to get my attention. Animals are just like kids in that respect. If the clapping of hands (just a little) works, be sure to reward with petting and maybe a treat.
My cat is proof that most of us don't realize how smart our pets really can be. I think it depends on who raises them.
Good luck (05/15/2007)

By Carol in PA
Keeping Your Cat From Scratching Furniture
Pet Smart has what is called Sticky Paws. It is clear two faced tape. Put it on the furniture where they scratch, and they'll stop. No smell, no chemicals, and very easy to remove (though it lasts a very long time). (05/15/2007)
By Graycrab
Keeping Your Cat From Scratching Furniture
Every time you see your cat scratch in a place that they are not supposed to, spray them with water. That should do the trick.
Zig (05/15/2007)

By Ziggee
Keeping Your Cat From Scratching Furniture
I have a little tin which I filled with small pebbles. When a cat scratches, shake the tin. They hate the noise and stop scratching right away. Also, trim their nails so they aren't so sharp and don't do the same damage to your furniture. The last thing is to have a place they can scratch. So once you stop the scratching with the tin, put them in this area where it is okay. This could be at a scratching post, or outside at a tree. They do need to scratch and it is a natural instinct. So teach them what is acceptable. (05/16/2007)
By katvn
Keeping Your Cat From Scratching Furniture
With my cat, rewards work much better than "training". My cat had no interest in her scratching post until I started putting her treats on top of it. Now she goes over and scratches and about half of the time, she gets a treat. Of course, sometimes her scratches are only token efforts. Now that she uses her scratching post, she pretty much ignores the furniture. (05/16/2007)

By Amity
Keeping Your Cat From Scratching Furniture
I have five cats and we go to the pet store and buy apple bitters. You use it for ferrets and cats to keep them off your furniture. Ask at your pet store, it won't hurt the cats either. (05/16/2007)
Keeping Your Cat From Scratching Furniture
I used a spray bottle of water on my cats maybe 4 times in all, when they were scratching on my furniture. To them it feels like another cat is spitting or hissing at them.
And we got them a scratching post. It is best to put the post in an easily accessible, and at the same time not too public. a place. Kittens aren't motivated by catnip so we hung a few dangly things to entice them to play.
Another thing I discovered in my reading at the time, was not to let them think they are being pushed into doing it. They want to feel that it's their own idea and their own discovery. Whatever you do, don't take the cats paws and rub it along the post.
My cats do pretty much what they want, even jump on the table, but furniture scratching was really something I wouldn't allow.
Ya'll are lovely people! (07/10/2007)

By Sheraone
Keeping Your Cat From Scratching Furniture
If you have a Trader Joe's near you, run to it and purchase one of their cat scratchers.
It's in a flat box form, has a bunch of corrugated cardboard in it, and it also comes with some catnip.
I live in Calgary, or I'd be buying them in bulk, lol!
My cat loves it, and she was very guilty of scratching our furniture, but it doesn't happen anymore. (07/24/2007)

By Cindy
Keeping Your Cat From Scratching Furniture
I have a 12 and 10 year old cat. I have always left a fire log out behind a chair or in a dark corner somewhere in hiding. They go to town on that thing! I discovered this when they kept scratching my firewood in front of the fire place. I've been doing this for probably about 7 yrs or so. They have never touched the furniture since. Works for me! (01/09/2008)

By Trisha
Keeping Your Cat From Scratching Furniture
Go to www.rataway.com (02/17/2008)

By Rick Suddes