My husband got me a Yorkie puppy that is 3 months old. She likes her bath but she hates for me to brush her. I brush her everyday thinking she will get use to it but she hasn't. Her hair is getting matted and I need to know how to get it out. I put a clip bow in her hair but she takes it out right away. Is there anything else I can use so the hair stays out of her face?
Kathy from Edmond, OK
Answers
November 11, 2008
0

found this helpful
I would suggest you clip (very carefully) the mattes. Get her a "Furminator" comb. They are incredible, and a natural bristle brush.
Also, see if there are any animal entangling products for after her bath, that might help keep her hair smooth and easier to groom. Make grooming very light weight and fun, so that you can build up her confidence. Mattes can be quite painful to deal with. Good Luck
November 11, 2008
0

found this helpful
I have a teacup Poodle that I bought from an out of state breeder & he was on the plane many hours longer than he should have been. He hates loud noises and I tried the bath, which wasn't too bad but when it came to the grooming, cutting, etc.
I just found it much easier to take him to the groomers and they always fall in love with him & say that he is so easy to work with, but I guess it is like a kid & maybe I just let him get away with bad behavior right away. Anyway, yes it is pricey (I live on a pension) to take him to the groomer but it saves on my nerves & my back to do just that and we are both happy.
November 11, 2008
0

found this helpful
Covered elastics can be used to make a "bunch" between her ears. Also, small hair clips/barrettes. Any $$ store carried a multitude of styles. Both will keep your dogs hair out of her eyes. Good Luck
November 11, 2008
0

found this helpful
I agree with the idea of doggie creme rinse to help prevent matts and make grooming easier. Use a conditioner made for children if you like. If you can't afford or don't want to pay a groomer, try a "slicker" brush. However, Yorkies and other dogs whose hair hangs in their faces were made that way.
The hair doesn't interfere with your doggie baby's vision, it protects it. We owned Lhasa Apsos (Tibetan terriers, about 12 lbs) when I was a "tween" until I was 15, and never bothered our little walking dust mops with hair bows, barettes, or anything.
November 11, 2008
0

found this helpful
I agree with the first one I have a wired terrier mixed (make sure you know what you are getting into when you get one of them they are a handful) I just give her a bath using my daughter's suave kids shampoo. Yes she does not like it either does my daughter yes she hates getting her hair brush same with my daughter and both do not wear the barrettes why bother both hate them and I could care less.
When daughter's bangs get to long she goes to the cut and curl and a quick snip hates it too and the dog I quick do a snip snip around her eyes and in the summer the grommers for a good hair cut because of too hot.
November 12, 2008
0

found this helpful
Cowboy Magic is a cream that you can take a dime sized drop on your hands and massage into her coat. It has silicon in it and this is the stuff groomers and dog show people use, It will help to make the mats come out easier. There are some special brushes made to get out the mats as well.
I use the covered elastics on top of my Maltese's head (which is why my friend calls him, Palmtree). I gather his hair in one or two little bunches. He's adorable.
Sorry, I can't seem to find the picture on this computer.
By Mustard (Guest Post)
November 12, 2008
0

found this helpful
If you dont mind simply cutting her hair, that may be the best bet. Cooler in the summer an in the winter she probably stays inside. But when she goes out she can wear a cute sweater or something.
November 13, 2008
0

found this helpful
We have a Shorkie puppy - it's a mix of Yorkie and Shih Tzu. I choose for him not to have a long coat and no top knot - way too much work and he's a fun family pet not a show dog. I trim him myself (much cheaper, check Walmart online, they are about $50-$60). It took time to train myself and him but we're doing fine now. When I was learning how to trim/brush him I made a "bad behavior" sound when he was fighting me - just a sharp sound in your throat. It's stops him flat. Now when I show him the comb he smells it for a bit then turns around for me to brush him! I need someone to hold him for me when I trim his face and feet but otherwise I do it all myself. He looks a bit like Benji, the picture was from Halloween - he's the football to my daughter's football player costume.
My suggestion for you is to have patience but definitely be the one in control. The more you allow her to behave badly the more she's in control. You're so lucky she likes her bath!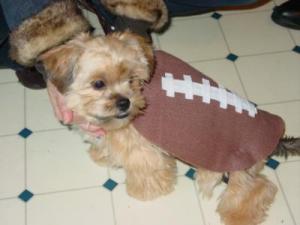 Read More Answers