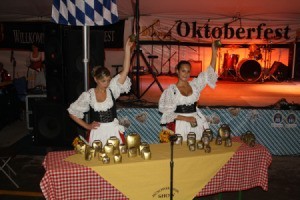 We visited the lovely town of Leavenworth, WA, for Oktoberfest last year. The annual festival runs for the first two weeks of October. Since Leavenworth has a Bavarian theme, Oktoberfest spills out everywhere in the town. Most of the buildings are decorated to look like they belong high in the Alps, as Leavenworth is located on the east side of the Cascade mountains. There are lots of specialty shops selling all manner of unique decorations, clothing or toys.
Oktoberfest is filled with music, dancing, gifts, yummy food, and (of course) lots of beer. It is fun for the whole family. There is a great kids area, last year it included a climbing wall and bouncy houses.
The kids had a great time seeing all the people dressed up, from beautiful traditional lederhosen or dirndl outfits, to the totally silly like these "Chicken Dancers". You will hear the "Chicken Dance" song performed many times, along with traditional German dancers and musicians on one of the many stages in the festival.
If you are bringing kids or want to be part of the spectacle at night, you may want to bring glow in the dark or light up accessories so you aren't tempted at the festival itself.
Hotels downtown book up very early and often have a waiting list over a year out. Splitting the cost of your hotel or condo is a great way to save. We found a condo on the edge of town that was just close enough so we could walk to the festivities. However, there is a free shuttle that runs to all the major hotels and makes frequent stops along the main street. Even if you aren't walking distance, it's an easy short trip downtown. They also will shuttle to and from outlying areas for a small fee. Either way, you don't have to drive!
Plan on eating outside the festival, the beer and food inside are expensive. They won't pour beer directly in your commemorative Oktoberfest stein so, unless you are a collector, don't buy one at the festival.
You can buy all sorts of things in the downtown area, but if you need general supplies or food, it would be better to drive out of the festival area and go to Safeway or another supermarket. Merchandise at the festival itself will be the most expensive but deals can be found at the speciality shops, if you are a bargain hunter.
Leavenworth is fun to visit year round. It is a great staging area to hiking, biking or water sports and Lake Wenatchee is very nearby. Every summer, a local version of The Sound Of Music is performed in an outdoor mountain stage. It is well attended during the entire run. In the fall, you can purchase apples and other produce from local orchards. And Leavenworth is beautiful at Christmastime, with snowfall almost assured this high in the mountains.
This trip was so much fun, we plan to do it again!
By Jess from Hillsboro, OR
Read More

Comments