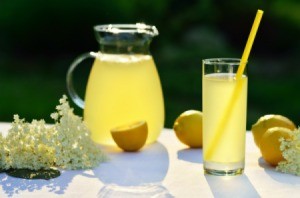 This lemonade syrup already has everything but water. It's easy to take along on a trip or picnic and make as needed.
Ingredients:
3 cups sugar
1 cup boiling water
3 cups lemon juice (about 16 lemons)
2 Tbsp. grated lemon peel
Directions:
In a saucepan, dissolve sugar in boiling water. Cool.
Add lemon juice and peel. Mix well.
Cover and store in fridge for up to 3 weeks. Makes 5 1/2 cups syrup
To Prepare:
1 serving (8 oz.): 1/4 cup syrup and 3/4 cup cold water
2 quarts: combine 2 2/3 cups syrup and 5 1/3 cups cold water
Servings:
22
Time:
10 Minutes Preparation Time
10 Minutes Cooking Time
By CATHERINE WOLFE from Talbott TN