My mother gave me an economy sized container of quick cook oats. Does anyone have a low-fat recipe for oatmeal cookies? I am on Weight Watchers. Or any other creative ways of using the enormous container of oatmeal. It would take my family 6 months to eat it! Any suggestions will be greatly appreciated! Thanks so much.
Monica from Pingree Grove, IL
Answers
November 4, 2008
0

found this helpful
Oatmeal itself is lowfat. We eat it with skim or 2% milk for breakfast as part of our weight loss diet. Most oatmeal cookies will be low fat--just watch what you use for your oil/btter (use a low fat) and don't add in the choc chips@
By CHARLENE (Guest Post)
November 5, 2008
0

found this helpful
My mother follows the recipe on the oatmeal box only substitutes Splenda for the sugar. My dad likes them better, not as sweet and great for diabetics.
November 5, 2008
0

found this helpful
Use oatmeal instead of bread or cracker crumbs in meatloaf, meatballs etc. You can also grind it finer in a blender or food processor and use like a specialty flour in baking oher than cookies. How about whipping up a batch or two of granola? it can be made low fat too.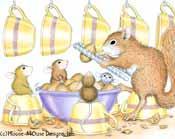 November 5, 2008
0

found this helpful
Leftover cooked oatmeal is great in pancakes.
November 5, 2008
0

found this helpful
There are all sorts of different recipes using oatmeal at the Quaker web site. Not just cookies and that sort.
quakeroatmeal.com/.../index.cfm
They have on the link above where you can filter out just the cookie recipes that are heart smart or ones that are low cal etc.
Preacher cookies use a lot of oameal but really aren't low cal by any means. They are almost like candy.
Oatmeal cake is scrumptious.
Granola uses lots of oats and can be made to be low cal or low fat with the right recipe.
I keep meaning to try it but have not yet is a recipe I keep seeing for Baked Oatmeal. Supposidly even the leftovers are good.
November 5, 2008
0

found this helpful
For a different taste in breakfast oats, add a spoonful of peanut butter to the warm cereal. It is yummy. And you can put the uncooked oats into freezer bags and keep it a year or more.
Mrs. Elson's Oatmeal Cookies
Turlock ,Ca. 1951
cream 3/4 cup shortening and 1 cup sugar
add 2 eggs , well beaten
1 cup flour
1 teaspoon baking powder
1/4 teaspoon salt
1/3 cup milk
1 teaspoon cinnamon
1 teaspoon vanilla
3 cups oatmeal
1/2 cup each : chopped nuts,chocolate chips and raisins
Mix all together and drop by spoonfuls on ungreased cookie sheet.
Bake in 325* oven for 10 - 12 minutes.

BAKED OATMEAL
1/2 c. oil or applesauce
2 eggs, beaten
1 c. sugar
2 tsp. baking powder
3 c. oatmeal
1 tsp. salt
1 c. milk
nuts, optional
1. Bake at 350 degrees, 30-35 minutes.
Also can be cut in half and microwaved.
Not sure where the last recipe came from..GG Vi
By Nance (Guest Post)
November 6, 2008
0

found this helpful
Also, oatmeal is soothing for the skin. Good to use as a facial scrub, or a little in bathwater, or tied in a washcloth in the shower.
November 6, 2008
0

found this helpful
I was looking for another recipe and came across this one for Oatmeal cookies on the WW forum. It has applesauce instead of fats and egg white instead of eggs.
By Deeda in Seattle (Guest Post)
November 7, 2008
0

found this helpful
We make granola! Lots of recipes on the internet, though I use Tightwad Gazette's w/ the addition on coconut, and cheap nuts: sunflower seeds, pepitas(pumpkin seeds, shelled), and sesame seeds--all bought in bulk. Not exactly low-fat, but filling, and so much cheaper and healthier than processed dry cereal. I've also made scones, muffins, used it in meatloaf, but I find the cookies good, if a bit dry. But making a double-batch of granola can use about 10 cups at once, and it lasts for awhile. We like it on our homemade yogurt, too!
Answer

this Question
I'm looking for recipes for low fat/low or no sugar oatmeal cookies. I just love these darned things, but they are so full of fat and sugar.
By nonniebeth from Rome, GA
Answers
November 14, 2011
0

found this helpful
Take your regular recipe and experiment:
1. Substitute Splenda for 3/4 of the sugar. I always maintain at least 1/4 of the sugar amount as real sugar.
2. Substitute unsweetened applesauce for all of the margarine/butter. Don't use equal amounts though. Two tablespoons of applesauce is usually appropriate for a standard recipe. I do this for muffins all the time, and it works great. But be aware that using applesauce means that your cookies/muffins won't keep more than a couple of days unless you refrigerate them. That's usually not a problem at my house!
Answer

this Question