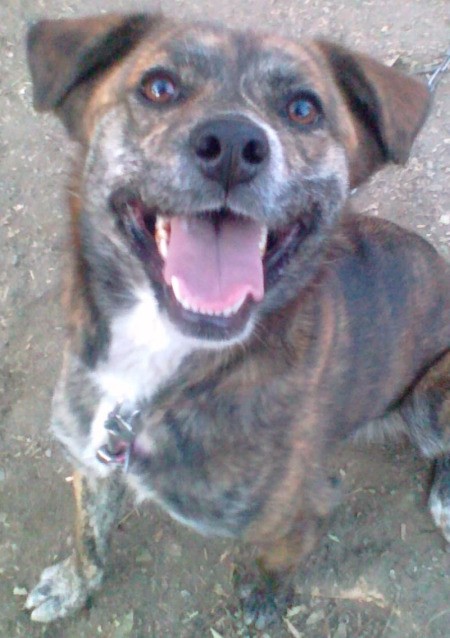 Your Pet's Age
1
Your Pet's Breed
Mixed
How and when did you get your pet?
My brother, Michael, who has a soft heart for all animals, knew a girl who moved out of town and left the litter of puppies her dog had behind, starving and alone. Michael worked to find homes for all of them which was no small task in a town with no vet and, therefore, a lot of unwanted puppies. And he managed to find homes for every puppy except for the brindled brownish-orangish-greyish one. Apparently, no one thought she was very cute, except me.
Michael started emailing photos and videos to me, and that was pretty much it. Since we live in Alaska, and our hometown isn't connected to other places by road, the puppy had to come by plane. I met her at the airport, (the photo with Lyra next to her flight kennel was taken the day she arrived), and she bonded to me right away. We're still pretty tight. And she has the best doggie smile!
What does your pet like to do for fun?
Lyra likes to do anything that I am doing. As long as she's in the same room, she doesn't really care what the activity is. However, her favorite thing is probably going for walks. There are SO many interesting smells on walks.
Do you have anything else to share about your pet?
My husband and I also have a gorgeous German Shepherd-Husky mix. When we go for walks, passers-by always ooh and ahh over him with his creamy, fluffy ruff and black-tipped fur. No one ever says anything about little brown Lyra. But she and I don't really care. We just wait for people to stop being gooshy and continue trotting along. I think Lyra is beautiful, but she doesn't care about that. She just wants to be a happy little dog in a happy family! And she is. And we are!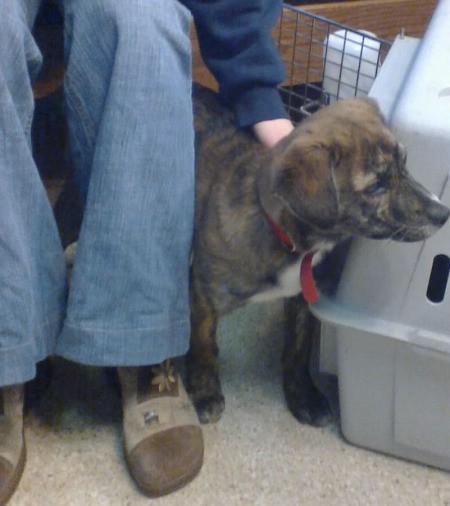 Add your voice! Click below to comment. ThriftyFun is powered by your wisdom!
November 26, 2012
0

found this helpful
Dear Stephanie, I don't know what's the matter with the other people, but I think Lyra is beautiful! Her name is beautiful too, and she has one of the best doggy smiles I've ever seen.
Blessings to you and your brother for seeing the beauty in this little angel and taking care of her. Best wishes for many happy years together!
November 26, 2012
0

found this helpful
I love Lyra! She is just beautiful!
I am so glad you don't worry about all the little non-important things, and I am so glad you know what is really important, what makes Lyra have good dreams at night, like having a wonderful momma and a wonderful walk!

Blessings,

Robyn
November 26, 2012
0

found this helpful
Hi again,
I am posting a pic of our catahoula mix...Bruno next to our rooster Phoenix. Bruno looks like your Lyra in the face, even though you cannot see his face in this picture.
Tell Michael that he is an angel on the earth for taking care of those puppies and making Lyra's life so blessed. As an added note, my middle name is Lyrae. I love it!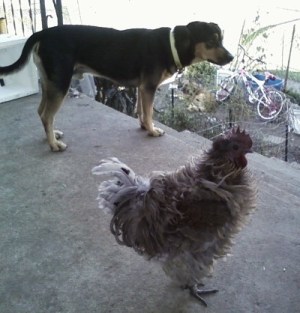 Add your voice! Click below to comment. ThriftyFun is powered by your wisdom!