Here are some ideas for making your own Swiffer pads and refilling the cleaning bottles. Feel free to post your ideas in the forum below.
Onesies
I have used old baby onesies for my Swiffer. They snap right over the pad. It works great for dusting! Just unsnap and through in the wash when you are done! (04/29/2004)
By Ann
Paper Towels
Do you have one of those new Swiffer mops, but hate to pay upwards of $1 for each pad that you trash after one use? I've been taping several sheets of quality paper towels to mine, which costs only pennies compared to the official Swiffer pads and do just a good job! (09/09/2004)

By Nichole N.
Make Your Own Swiffer Cover
"How to make you own Swiffer Cover"
http://kansasa.blogspot.com/2006/04/swiffer-cover.html
By Laurie from Pahrump NV
Finger Towels
Here's a money saver tip. I have a Swiffer wet/dry mop and use it often, but I simply cannot bring myself to keep buying those expensive throw-away cloths. So I use finger towels (what ELSE do you use them for?) or any small terry cloth towel to wet-mop my floors. Also you can cut old flannel shirts to the size and use them to dry-mop the floors. Works great! And when you accumulate a bunch, simply throw them into the washer, hang them on the line and Viola - they're ready for use once again. (09/19/2004)
By Harmony
Make Your Own Swiffer Pads
You can refill the bottles just use pliers to open the bottle and refill with your own solution. You don't have to saw off anything. I just use my adjustable pliers. (09/20/2004)

By Rose
Washcloths
I also have a wetjet swiffer and I refuse to buy the refill bottles or the cleaning pads. In place of the cleaning pads, I use old washcloths - they stick to the velcro - all you need to do is cut a little off if the cloth is too long. And instead of their expensive cleaning solution, I mix Mr. Clean and water in a squirt bottle and squirt it on the floor and "swiffer" it up. Hope this helps (09/26/2004)

By gbsmommy
My Recipe
Our SJ's squirt broke, thanks to my kids. But I just use a combo of 1/2 vinegar, 1/2 water, with a few drops of rosemary oil to clean the floor. Doesn't give quite as nice a shine, but sure is cheap, and smells SO much better than the chemical SJ solution. (09/28/2004)
By Ann
Used Socks as Swiffer Pads
Around my home it seems that someone always has a sock with a hole in it, so I started saving the "used" socks and by making a slit from the top of the sock to about the middle of the foot, I can slip them over my Swiffer duster and I don't have to buy the replacement pads. They work just as well and I feel that it picks up larger crumbs better. (09/30/2004)

By Debbie
Knit a Swiffer Cloth
Swiffer cloths can also be knit with cotton yarn, just as you would knit a dish cloth. They work best as dry dusting cloths. (11/28/2004)

By Cis M.
Washing Swiffer Dusters
Believe it or not, those Swifter dusters that come in the box, and you attach to the handle, can be washed and used over and over again, instead of throwing away every time they become dirty. I've been hanging them on the line, I haven't tried the dryer yet, but they still work fine.
(12/06/2004)
By ljjcool
Refilling the Bottle
To easily reuse the Swiffer cleaning bottle, cut small hole (about 1/4 inch) into bottom (part that sticks up when inserted in the Swiffer mop). GO to local hardware store and buy small rubber stopper (under 50 cents). When you want to refill with your own cheap cleaning solution, take out stopper and use funnel to refill. (12/06/2004)

By gg1262
Bay Diapers
Getting a bag of baby diapers saves money over buying the Swiffer pads. They're made to absorb large amounts of liquid and are a lot cheaper than the refills. (12/06/2004)

By Sue
Washing Swiffer Cloths
I wash the Swiffer cloths in the washer and dry them in the dryer! So far so good! (12/06/2004)

By Kathy
Removing the Swiffer Top
You can refill the cleaner, just take a pair of channel lock pliers and twist the top off and fill it with your favorite cleaner. Just be careful not to twist it off too hard or you'll break the top. We've had ours about a couple of years and that's what we do, it works. (01/03/2005)
By steven
Swiffer Top Comes Off
I just wanted to let you know that the top of the swiffer bottle screws off. Use whatever floor cleaner you like use 2 tablespoons of cleaner to a quart of water. I do this and it works just fine. (01/29/2005)

By Christine
Leaking Swiffer Bottle
I love my Swiffer Wetjet, that is until it started leaking. Does anyone know how to stop it from leaking? It makes a horrible mess every time I stand the mop up after cleaning. YUCK (03/20/2005)

By Susan G
Dry Swiffer Cloths - Hankies
Make your own dry floor swiffer cloths. Spray your husband old hankies with Endust (you can purchase at Thrifty's), let dry and use with your dry floor swiffer. Rinse used "hankie" under warm water to clean, or save them up and wash with other cleaning clothes. This works well with old socks for cleaning ceiling fans or regular dusting.
By Janys (04/23/2005)

By ThriftyFun
Leaker Swiffer Bottle
In response to Susan G on the leaking, what probably happened is that you stored your Swiffer with the bottle on it for too long. Try removing the cleaner bottle; be sure to push the purple release button on the side. Look at the sides of the bottle and make sure that the little teeth that snap it into place didn't puncture the bottle itself. I had this happen and was surprised at such a simple problem. The leak came out the base, since that is where the cleaner flows; simple gravity. I simply purchased a new bottle and now remove it from the mop before storing both in the closet. Hope this helps! (05/06/2005)

By Shaye
Magic Eraser
For those very hard stubborn stains, just take a Mr. clean magic eraser,put in middle of bottom of the pad, use rubber bands to secure at both ends. It really does work great. (07/15/2005)

By Shania
New Swiffer Bottles
Swiffer is now trying to swindle your money by charging for refill bottles with special caps that prevent you from being able to refill them yourselves. The best way around this is to merely cut a hole in the bottom of the refill canister and pour in your own solution. If you constantly store your swiffer upright, this could really save some money and stick it to the corporate fat cats at swiffer. I used Mr Clean and some water. (07/30/2005)

By Kevin
Turkey Injectors
I have been refilling my old swiffer cleaner bottle for years now with one of those turkey injectors. Looks like a big syringe that you can put marinades into meat with. Just remove the plunger from the syringe, insert the needle into the middle of the empty swiffer bottle and pour your own cleaning solution into the syringe a bit at a time. If you squeeze the swiffer bottle a little before pouring cleaner it will suck it in quicker. I have refilled the same bottle a number of times with no leakage whatsoever. (08/08/2005)

By Michelle
Starfiber
The Starfiber mop refill pads stick onto the Swiffer Wet jet really well. They are washable. I already had a couple but the refills can be purchased. (08/08/2005)

By Michelle
Refill Swiffer Bottles:
Drill a hole in the top with a hole saw (about 1.5 inches in diameter) refill with a solution of whatever you desire, plug the hole with a common rubber stopper (the kind used for laundry and bat tubs). That's it! (01/09/2006)

By Sam Saver
Answers:
Refill your own Swiffer Bottles
Refill Swiffer Bottles:
Drill a hole in the top with a hole saw (about 1.5 inches in diameter) refill with a solution of whatever you desire, plug the hole with a common rubber stopper (the kind used for laundry and bat tubs). That's it! (01/09/2006)

By Sam Saver
Make Your Own Swiffer Pads
I purchased (at Walmart) "bar mop towels" they are like a cloth but thicker, you see them used in bars and restaurants to wipe just about everything. I soak them in dish soap and water , ring them out to my liking and the cloth is easy to push in the little grab corners . I tend to just use dish soap and water with them especially since I am afraid of my daughter or dogs getting too many chemicals on them. I have a couple in a bucket and just rinse them re-soak them and carry on. It works really well. (10/11/2006)

By Jackie
swiffer bottle leaking?/??
Get you some 'plumbers tape' (any dollar store will have it) and wrap it good around the threads. I keep some and use it on everything that has to be screwed together. Put enough on it so you can barely screw the lid on and put a little muscle into it. Guaranteed not to leak anymore. (10/29/2006)

By Sandie
unscrew top
TOP COMES RIGHT OFF with pliers, thank you so much for the advice. Let's hear more about cleaning solutions that work. I use vinegar for the babies sake. I'm a new stay at home dad/ebayer always looking for ways to save.
Thanks people (03/13/2007)

By vito
Make Your Own Swiffer Pads
I just cut a normal 16 inch square microfiber cleaning towel in half, (purchased at sams/costco 10 to pack) then trimmed some off the ends, shove that into the swiffer and viola, a home-made microfiber mop. Works well dry and works awesome wet. No cleaning solutions needed (for my floor at least) just throw in the washer and dryer as usual. (04/17/2007)

By Jane
Make Your Own Swiffer Pads and other tips
What a wonderful idea! re-using the swiffer pads! I have refused to buy those things because I knew the refills would be expensive, the way computer printer ink (1 yr's supply) is more expensive than the printer itself!
Now I will try getting one...hopefully I can find the older model with the screw type caps. I will share my secrets with you. Keep reading.

Glad to hear that I am not the only one with a fettish about greedy corporations. I simply hate all that "disposable" waste and litter and clog our planet while usurping our precious resources!!

I use baking soda, vinegar, lemon juice and salt for cleaning a variety of things. Environmentally safe and inexpensive:

-Baking soda in warm water to remove soot from glass (as in fireplace enclosures).
-Vinegar as antiseptic around the kitchen counter/sink/toilet/tub.
Also try these:
-Mild solution of bleach to brighten dingy whites (though bleach is a bit harder on the environment
-vinegar in warm water and crumpled newspaper to wash/dry windows
-Laundry powder on cloth to wash bathtub/ sink/ faucet. It won't harm your tub/sink and leaves it sparkling.
-Porcelain kitchen sink doesn't need CLR, nor that abrasive Magic Eraser filled with cancer causing formaldehyde, just damp sponge with warm water and bleach..let stand for a couple of minutes, then rinse off.
-Remove sticky gummy adhesive tape residue with another piece of adhesive tape...repeatedly press sticky side of the tape to the stubborn residue and the residue will eventually stick to your tape! Discard the tape! No need to rub with oils the wash off with soap!
-Removing old wallpaper simply lightly score surface of wallpaper so warm solution of water can penetrate. Apply with a wet mop! Wait for about 5 minutes for paste to loosen then peel off paper. If your wallpaper splits and just the vinyl scrubbable part peels off repeat the mopping to the backing that is left on the wall and peel that off..no need for harsh chemicals or steamers.
-clean up oil painting brushes (artists or house painters) by removing as much excess paint from brushes as possible with paper towels or old newspapers, discard those. Then use a good quality dish washing detergent to neutralize the petroleum distillates. Repeat several times. Wash hands in soapy cool water. (cool to keep your pores closed to minimize absorption through skin)
-Hate those textured surfaces like refrigerator doors, vinyl flooring and counter tops? where the dirt gets into the tiny grooves? Allow to soak for a couple of minutes. Scrub it out with detergent and a fine brush. I often use an old toothbrush for smaller surfaces and a brush on a handle for the larger areas..
-Want to remove those oil stains off your concrete garage floor? Sprinkle with cat litter push it around on the grease and discard.
-Have a garage in the colder parts of the country where you get snow and slush in your garage in winter? Get a shovel full of fresh snow and toss it on the grungy floor. Push it around the floor with your shovel till that snow gets dirty. Use a good shovel scrap off that snow and discard on the street where the sand in it will give more traction. If you use a good shovel with a metal edge it will scrap off all the snow and the floor will be left clean AND dry!
-Trying to save money by doing laundry in cold water? Dissolve 1/4 cup of washing soda in a glass container in HOT water. Add that to the wash water before adding your detergent. Continue filling the washer with cold water. Wash in regular way. Rinse twice...the dinginess in our clothes is the dirty rinse water still left in the fabric. So double rinse to get that dirty water out of there and use the heavy duty spin!
-Steam cleaning your own carpets? Try double rinsing with warm water immediately after you've cleaned the carpets. You'll be surprised at how much dirt still comes out. Even on the second rinse! Carpets will look brand new! Secret is to extract as much water as possible after the last rinse for that really clean look! Stains will have to be treated separately.
-Have ants? Buy a large box of Borax for about $5. It will last a lifetime! Mix 1/4 tsp with 2 tbsp of smooth peanut butter. Place in a bottle cap. Place that on the beaten path the ants travel on. Get a slightly larger can (like a tuna fish can) notch the rim to allow ants to get into can when can is placed upside down over the bottle cap. You may want to nail a long nail through the whole thing to prevent pets/kids wind from upsetting your system. You do not want to just pour the borax...it is a soil sterilizer, and probably toxic to infants and other animals. That is what those ant traps that you pay a little fortune for is made of! (09/03/2007)

By bestbrushstroke
Refilling Swiffer Bottles
Actually it's very easy to get the bottle cap off without damaging the bottle or the cap; just run it under really hot water for a bit and it will unscrew/pop off for you. ;) By the way; thanks for all the pad ideas! I'm going to try those too! (11/07/2007)

By annie
Make Your Own Swiffer Pads
Use the large maxi-pads, for a disposable alternative. They stick right on. (03/17/2008)

By jana
Make Your Own Swiffer Pads
We use Swiffer dry/wet mops in our Class 100 cleanroom for cleaning up small oil/chemical messes; most of the cleanroom wipes will fit the mops, and isopropyl alcohol goes in the bottle. (04/22/2008)

By wayne w
Make Your Own Swiffer Pads
I'm not so sure it's a good idea to interfere with the original plan of the Swiffer. The solution is designed to kill germs and bacteria in combination with the pads which soak up the germs and bacteria. Seriously, just go back to the all mighty mop and bucket. With all the modifications you all have made to the Swiffer, I can only imagine the amount of germs and bacteria you are leaving behind. Is it really worth it? Does it really kill any of us to wring out a mop? (05/19/2008)

By Karen
Make Your Own Swiffer Pads
Oh no, I don't want all those germs in my washing machine to contaminate the rest of my washables. Oh no, oh no, oh no. The people who are doing this might be better off using an old pail and soaking them in there for a few days and rinsing them off with the garden hose and then hanging them up on the line. Would you want your local hospital to "fight germs" the way you are doing? Please don't invite me over for coffee! ;-) (09/18/2008)

By Shira
Make Your Own Swiffer Pads
To take the cap off the Swiffer bottle for refilling it, all you have to do is submerge it in boiling water for 20 to 30 seconds, twist, and off it comes. You can clip the little "wings" off the cap so that it twists off easily every time, or just leave them on so that the cap stays on tight.

Just dunk it in boiling water every time you want to remove the cap. Basically, this causes the bottle to contract so that the cap can be twisted. (11/04/2008)

By Nancy
refilling bottle
If you soak the bottle in hot water (microwaved for 2 minutes), the cap unscrews easily using a paper towel or rag to hold it. Read this under how to refill bottles. (01/05/2009)

By visitor
new and improved
I am in grade ten and we have to do a culminating and we chose to do an invention using swiffers, I want you to take a minute and think about this (SWIFFER SOCKS). This is an inventions to take the original swiffer to the next level With its snug fit under your feet, it will allow you to go in hard to reach places without straining your back.
Just imagine an elderly lady is cleaning her floor and she can't bend down, instead of risking hurting her back, she just throws on the those socks and she's done in no time, with the curvature of your feet it enables you to reach the places that the original swiffer could never get at.

Some of the many benefits to the swiffer socks is it is fast to clean up and easy to take off the swiffer pads when you're done. Also there are two different types of pad to clean up. One is for cleaning dust and one is for cleaning wet spills. The last benefit is it comes with certain techniques to make your cleaning a lot easier.

Tell me what you think? (01/07/2009)

By Connor F.
Make Your Own Swiffer Pads
There is a terrific How to Make Your Own Swiffer Cove project on CraftStylish.com today:

http://www.craftstylish.com/item/44816/how-to-make-a-reversible-swiffer-sock

I love that it looks like an American Flag! (04/15/2009)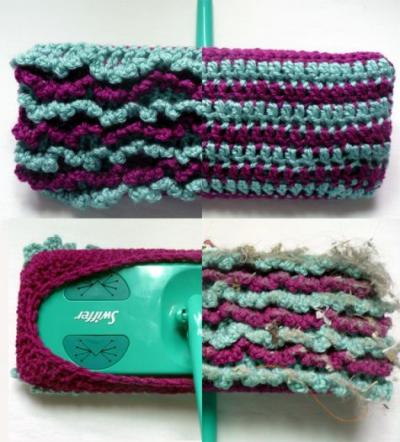 Make Your Own Swiffer Pads
Replacing Black Strip: Try using the dark scrubbing side of a scrubbing sponge. Just cut the sponge part off and then cut it to fit the space-glue in place. (You should get two strips out of one sponge) If it is too rough, use it on dished for a week or so before gluing it on the Swiffer. (05/15/2009)

By oldlinda
Best Way to refill, no leaks, no drilling.
Veronica Sparks, Hey all you Moms that Love the Swiffer WetJet but hate to buy the Solution Bottles! Check this out. I just did it on the old and new bottles and It worked! Wow!

Take a soup pan, Fill with about half water. Boil. Once it's boiled, take your swiffter bottle and with the cap facing down, insert it into the boiling water for about 5 seconds. Do not submerge it past the curve. Take it out of water, use a pair of plyers or a dishtowel and it simply unscrews. Very easy. Refill with what ever you like and screw top back on and insert into mop. No leaks. Works every time. Here is a link to video. http://www.youtube.com/watch?v=7pO-AbT3GpE (06/23/2010)

By nsrmom
Make Your Own Swiffer Pads
Just unscrewed my swiffer jet bottle with pliers and refilled it. Works great. No need to cut the bottom and plug it. Great product, but they are not going to screw me over with their high priced cleaning solutions that don't even clean well. Same for the pads. (09/01/2010)

By scottstheone
Refilling Swiffer Bottles
I found the following video of how to remove the top of the Swiffer bottles. Basically the guy boils the top of the bottle for 10-seconds and it softens the plastic enough to pop off without damaging it. Then you can refill at will.

http://www.youtube.com/watch?v=7pO-AbT3GpE (10/06/2010)

By martymetz