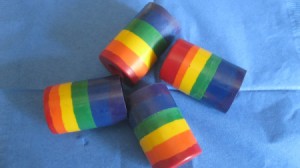 I've melted short crayon pieces in the past, using silicone molds. But, I saw a different idea that looked like fun using empty medication canisters.
Spray the containers with a little cooking spray. Then get to work getting the wrappers off the crayons. Soaking them in warm water for about 15 minutes seems to get a lot of it off, not all of them, though.
Separate the colors into clean cans. Melt your first color. Place the can in a pot of simmering water, about an inch deep. Stir with a chop stick or Popsicle stick.
Once melted, very carefully pour the wax into the canister, try to not get the wax on the sides. Melt the next color; repeat until finished. Let the crayons cool for a while.
Give it a tap and the crayon should slide out. Be careful of the medicine bottles that have ridges on the inside. I did a few of those and didn't realize that they wouldn't come out. Make sure the bottle is completely smooth on the inside.