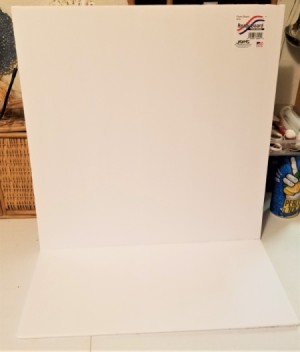 My daughter and I are reselling new jewelry so I needed a good backdrop to use for the photos.We both have photo boxes, but they take up a lot of room and are cumbersome. So, I thought of this.
Take a white (black works too if your display stand is white or tan) foam board from the dollar tree.
Measure it by thirds. They are 30 inches long so it was easy. At the 10 inch mark, simple score the board with a smooth-edge knife.
Simply "pop" the board so the back stands up and doesn't make it break apart.
If that has already happened, simply turn it over and tape it with any tape. It won't show and the front seam will barely show, either.
I set mine up so the 2/3 of the space allows for larger things, and you can set your items or display stand close to the back and you have only spent 1.00!