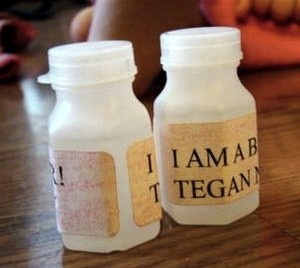 With the impending birth of a new sibling, we bought a couple dozen bottles of the bubbles that can be used for weddings, etc. and decided that Tegan (3 at the time) could announce the birth of her new sister in this manner.
Approximate Time: Seconds, depending on how many.
Supplies:
bottles of bubbles used for weddings
sticky sheet to print in the computer
Instructions:
We typed into the Word Processor program and made a template filling the whole page with:
I AM A NEW BIG SISTER (putting big sister's name here)
We waited until the birth of her sister to quickly color the whole page in pink, totally scribbled like, and then cut the sheet to the size of the printed label. We peeled off the back and stuck it on. As we needed more bubbles to hand out, we just printed another sheet. By having it all done ahead of time, it was a breeze to take to the hospital or to hand out to friends. And since it was from a sibling, she got to give them to her friends.
By Joyce from Benson, MN
Read More

Comments
We are expecting our second child in a month and we are trying to think of a creative way to involve our 2 1/2 year old son in the birth announcement process. We would appreciate any ideas. Also, if anyone know of a website to find a candy wrapper template that we could edit and wrap around a chocolate candy bar to give out announcing the birth (date, name, weight, etc.)
Thank you!
Eva from Roscoe, IL
Answers
June 12, 2006
0

found this helpful
When my second daughter was born, I had my first daughter draw a picture of me, my husband, herself, and a baby. The sizes were rather random, but it doesn't matter.
Then I took the drawings to a copier and reduced them, one at a time, until each was an appropriate size, in comparison to one another. (You could do the same thing with a scanner and your computer.) I put them together, so that they fit on 1/4th of the paper (so I could use quarter-fold sized cards.)
The vital statistics went on the inside; on the outside, I left the drawing black and white, with the exception of drawing a pink bow on the baby's head after she was born. (Had she been a "he", I would have tinted the diaper blue.)
Now, my older one was 3.5, so your 2.5 year old may or may not be able to draw a recognizable person. (But as long as it is recognizable as a person, it works beautifully when you credit the artist.)
For her preschool, we made a bunch of teddy bear lollipops in pink and blue--she took the appropriate color in, (and we used the blue ones for her next birthday.)
Try www.alenkasprintables.com. They used to be free; don't know if they still are.
Best wishes for a wonderful birth!
By K from Oz (Guest Post)
June 13, 2006
0

found this helpful
You could make hand and foot print cards with your child announcing the birth.
June 13, 2006
0

found this helpful
Handprints of baby and bigger siblings dipped in water-based paints and worded as if the sibling is announcing his/her older sib-ship...ie. " Fred is happy to announce the arrival of his little sister Freida on ..."
By Marisa (Guest Post)
June 13, 2006
0

found this helpful
You could do a photo of your toddler holding the baby (sitting all the way back on the couch with support pillows, of course!). A beaming big brother smile would be adorable. :) Or he could help with creating/assembling the announcements--my 2 year old LOVES stamping, but he could probably also help with gluing bows, sprinkling glitter, attaching stickers, etc.
I love when I can turn a job I have to do into a craft project or other learning experience with my toddler!
By Cheryl from Missouri (Guest Post)
June 13, 2006
0

found this helpful
I like the idea of the photo with your son holding the new baby. But maybe add the verse "Our family just grew by two feet." and include vital stats on the inside.
July 19, 2006
0

found this helpful
Found this link for the candy wrappers...
July 19, 2006
0

found this helpful
You could let your older child paint with pinks and blues on large sheets of paper. (reg. sheets would work too. just make sure they are strong enough to hold up to the paint. we use construction or newsprint) Just let him/her go wild. you will get the neatest abstracts you have ever seen. then tear them up into rectangles. Buy some cardstock at a craft store and attach the cut up pieces to the front. Then you can just write all the information on the inside. you could also add a photo to the top of the artwork on the front.
This way its personalized and your big kid gets to help. One more way to connect the two.
Answer

this Question