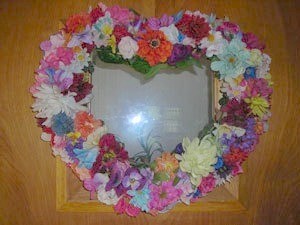 Have flowers all summer long with this easy-to-make wreath.
Crafting Time: 30 - 60 minutes
Materials
straw wreath base
This can be any shape or size. The sample is a large heart, as I found the base at a garage sale.
variety of silk flowers
The larger your base, the more you will need. My flowers were also a garage sale find, when a crafter was cleaning out her inventory.
scissors and (possibly) wire cutters
straight pins
wire or dental floss
Instructions
Use scissors to remove flower blossoms from stems. For some stems, you may need to use wire cutters.
Use straight pins to attach the flowers to the front and sides of the wreath. Completely cover the straw and place flower types and colors randomly to create a flower garden effect.
Cut a piece of wire or dental floss. Tie this to the top of your wreath to create a loop for hanging.

By Marie from West Dundee, IL

Read More

Comments
This are pictures of what I call Anything Wreaths, just to show you can make your own wreaths very inexpensively out of just about anything. Both are made using grapevine bases, which I picked up for pennies at yard sales, and a glue gun.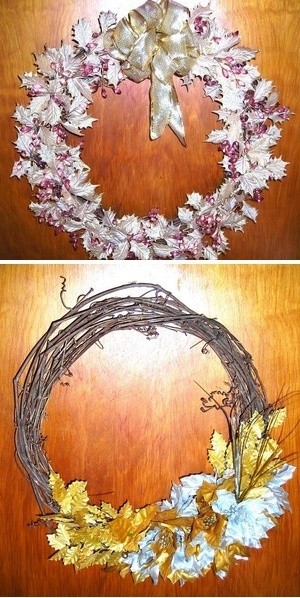 Read More...
Does anyone on here make homemade door wreaths?

Donita from MO

Answers
By denise w (Guest Post)
July 1, 2008
0

found this helpful
Yes, I do. Can I help you with something? Let me know and put wreaths in subject box warnerd5 AT aol.com
July 1, 2008
0

found this helpful
Homemade wreaths are loads of fun to make and way cheaper than storebought ones! I make mine with silk and dried flowers so they last longer, usually on a grapevine wreath base (although you can also use straw or foam). The number of bunches of florals and greenery you need will depend, of course, on the size of your wreath base. Dollar Tree is great for this! Cut your stems down to a few inches and hot glue your greenery in first, and then arrange your flowers around the edges until you find a pattern you like. Cute add-ins include bows or seasonal items like birdhouses, scarecrows, etc. Have fun!
July 2, 2008
0

found this helpful
Craft stores sell the basic wreaths plus so many goodies to add to them and they have free classes sometimes.
Here is one I made for Easter a few years ago.
Gather pinecones and twigs for free. My sister hung hers on their front door and birds built a nest in it.They used the side door until the babies hatched out and left. Then she had the real birds nest as a decoration..Hows that for free?LOL~ GG Vi
July 2, 2008
0

found this helpful
If you have forsythia bushes, use the long branches you trim off in fall to make a rustic wreath. Put a gloved hand around the branch and slide down, taking off most of the leaves. Coil a few in a circle and tuck ends into the coil or use wire to hold in place. Then add as many as you need to make it fuller, staggering where each begins and ends around the circle. It's good if you can wrap them around a bucket or other round container for a form, then let them dry out. You can glue or tie on other things like seed pods, grasses, etc. that you find in your yard, or things from the store like silk sunflowers, pansies, etc., and some raffia. This makes a nice rustic wreath to hang outside. Sometimes they look great just by themselves without any ornamentation, esp on outbuildings or a garage. When it gets too weathered and ugly, just send it to the compost pile if you used all natural stuff on it. I had some that were in a covered place on the house and they lasted several years before I tossed them. The best part is you're getting your materials for free. (I thought this up when thinning our bushes one year. We didn't have grapevines so I thought I'd give this a try and it worked pretty well)
July 2, 2008
0

found this helpful
Hi, email me at precioustaylor AT stjoelive.com if you can make a wreath for my front door. Thanks.
July 2, 2008
0

found this helpful
Hello, what do your wreaths look like? I'm wanting one to hang on my front door, a good size one, I thought something with berries, twigs, bird nest one. Let me know, thanks.
December 2, 2008
0

found this helpful
Hi, do you make these & sell them? Also do you know how to do the Christmas tree made from 6 wire coat hangers? email me at precioustaylor AT stjoelive.com
Answer

this Question
I am looking for instructions for how to make wreaths.

Ev from Walla Walla, WA

Answers
July 17, 2011
0

found this helpful
I purchase wreath forms from thrift shops for very little. I wrap the form with duct tape to allow for better adherence. Then I hot glue pine cones, acorns, seed pods, etc., to the wreath form. Once finished, I clear all the "glue strings" off after the glue cools. I hang the wreath in a well ventilated area, and spray the wreath with clear spray paint. Let it dry and you have a gorgeous wreath!
Answer

this Question