Over the years, I have tried to use less commercial products and make more of my own products for myself, my family, and my home-naturally, simply, and economically! I saw how many I bought and how much these products cost in both my grocery bill and our health when I worked for an organization that helps people deal with lung diseases.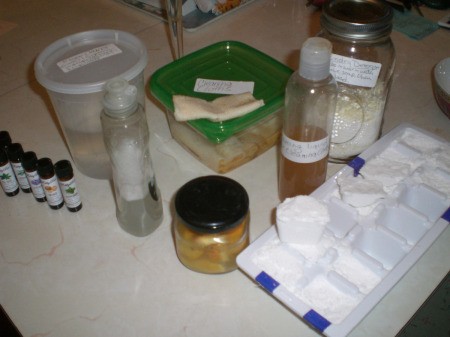 Many allergies, asthma, other respiratory and even skin issues are caused by unhealthy chemicals in products that we come into contact every day! I make my own natural and economical products including: toothpastes, mouthwashes, deodorant, healthy room scents, dish and laundry detergents, dryer sheets, floor cleaner, cleaning sheets, shampoo and conditioner, hair spray, sink, tub and toilet cleaner, just to name a few! They work just as good and smell wonderful, but are not toxic to family, pets, or the environment!
Studies says that women in particular potentially use at least 25 chemically produced products a day (which contain hundreds of individual ingredients). That may not be in our best interest for health and some have even been proven to be hazardous to our health!
They include: hand soap, toothpaste, mouthwash, liquid shower soap, shampoo, conditioner, hair spray/mousse or gel, deodorant, perfume, sink cleaner, toilet cleaner, tub/shower cleaner, floor cleaners (both vinyl and/or wood), wood polish, counter cleaners, dish detergents, clothes detergents, dishwasher cleaner, laundry softener, laundry dryer sheets, wrinkle release, air fresheners, make up, and hair dye or coloring.
Pictured are just a few of the products that I make myself. In future months, I will be sharing some of these individual cleaning projects and their ingredients on Thrifty Fun, when I get time to take some photos while making them.
Living simply with gentle, non toxic products make me and my family's life healthier, wealthier, and happier!