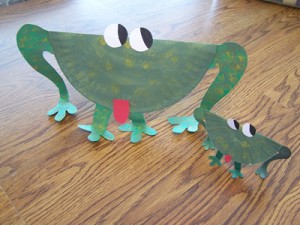 Momma Freita and Li'l Feta. On those snow days this is a fun project to do with the kids; one the boys would even like. After all boys-frogs, a natural right? As for the girls they will have fun with li'l Feta for sure, she is so cute, well sort of.
Approximate Time: 45minutes
Supplies:
1 paper plate
1 paper cupcake liner
1 sheet of green cardstock
scraps of red and white cardstock
black acrylic paint or scrap of black cardstock
scissors
glue
stapler
frog green acrylic paint
gold acrylic paint
newspaper
Instructions: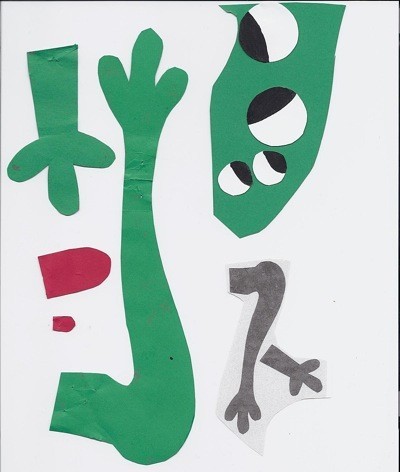 After you gather all of your supplies take a deep breath and have fun with the kids.
Spread out newspaper for them to paint on and have them paint both the paper plate and cupcake liner with your green acrylic paint.
Take your gold acrylic paint and dob on spots or use a piece of sponge and sponge lightly all over both. Set them aside to dry while you make the legs and other parts.
Copy the pattern pieces, trace them onto your appropriate cardstock and cut them out. Remember the legs must be opposites, so, reverse the pattern for the second one on both frogs.
Sponge the legs with the gold acrylic paint. Paint the black on the eyes if you chose to paint them.
Fold the plate and cupcake liner in half. Refer to the photo for placement and staple or glue the legs in place.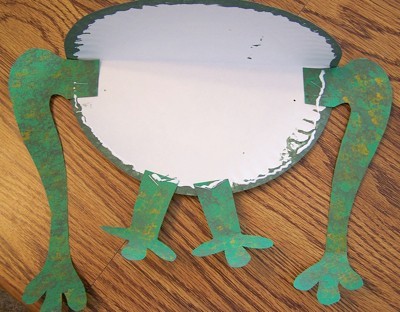 Run a line of glue around edge of the plate and cupcake liner then fold the edges together and secure with clips or clothespins. Let the glue dry while you glue on the eyes and tongues.
When all is good and dry remove the clips and bend the feet forward where the leg starts. It takes some patience to get Mother Freida to stand, but she will. The key is to bend her legs backward slightly right where they come out of the body and place the feet behind the body several inches. You might want to cut doubles of the back legs for stability if children are making them.
By Ann Winberg from Loup City