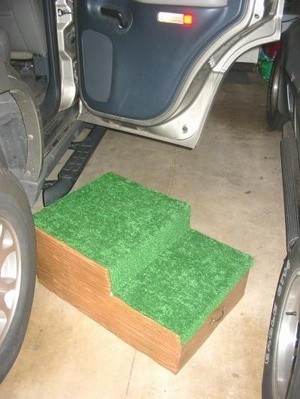 I have two large dogs weighing 88lbs each. It was difficult for me to put them in my SUV. I searched for inexpensive ramps, but was not willing to pay the price. A search on Google for "inexpensive dog ramps" turned up a site that gave my directions for making my own dog steps.
They are made from cutting a sheet of Styrofoam insulation into rectangular pieces, bigger pieces for the bottom and smaller pieces for the top step. These are glued and taped together until they are the height you need. I covered the sides of mine with "wood" contact paper and the top with AstroTurf. I put a cabinet door handle on the end to make it easier to pick up. This is so lightweight but strong enough for my dogs to climb up on. They just walk right up into the truck. I didn't even have to train them. Love it!
By Artlady from Edmond, OK
Comments
By Artlady (Guest Post)
June 12, 2008
1

found this helpful
Top Comment
Okay, here's a picture of my dog steps. Hope this helps.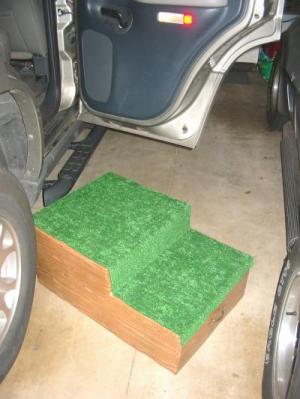 By Artlady (Guest Post)
June 12, 2008
2

found this helpful
Top Comment
I tried to view the link to the website I gave in an earlier post, for directions to make the dog steps. It doesn't seem to be working any longer. So, I'll give directions here.
Supplies:
Sheet of Styrofoam Insulation (the thicker the better)If you use thinner sheets, you'll have to stack more than three pieces together and may need two sheets.
* You may be able to get left over pieces at construction sites.
Glue made especially for styrofoam.
Duct Tape
Contact Paper
Astroturf or covering of your choice.
Double stick carpet tape.
Cabinet Handle
Bread Knife
I used a bread knife to cut the styrofoam. An electric knife works even better.
Cut three pieces 20" x 36".
Cut three pieces 20" x 24".
Glue the sets of three together. Let dry. Glue the smaller pieces on top of the longer pieces, lining them up at one end. Let dry. I wrapped duct tape all the way around my stacks in both directions just to make them more secure. Next cover the sides with contact paper. You'll want to fold over about an inch on the top of the platform. Don't worry about the bottom. It has a covering on the sheets. Put strips of carpet tape on the tops of the steps and apply astroturf. To attach the handle, just poke a shallow hole where the screws will go. Put your glue in each hole and screw in the screws. Let dry. Very simple! But, a word of caution, do this in your garage or outside. The little bits of styrofoam are maddening, that's why it's best to cover the sides.
June 10, 2008
0

found this helpful
You didn't mention the web address where you found the instructions,I'd love to have it!
June 10, 2008
0

found this helpful
Artlady!
Love to see your steps!
And can you repost the website to Susan for updating
this great idea.
Jennifer CA
Read More Comments