Making Tiny Hanging Glass Jars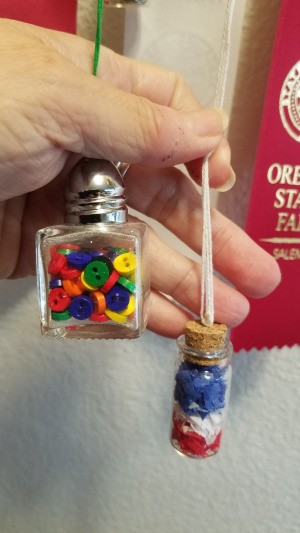 I won second place for these tiny embellished jars. I love these, and on line they are super cheap, plus there are also old style salt shakers. With a little time and imagination, I came up with these. I hope you like them.

Total Time: 2 hours
Yield: 5
Supplies:
2 mini salt shakers
3 mini jars
1 1/4 Teaspoon play sand
1 1/8 Teaspoon broken shells
1 Tbsp buttons
1 Tbsp gems/beads
3 cut up flowers
1/2 oz Spanish moss
2 punched paper butterflies
14 ft crochet thread
hot glue gun
1 in tiny twig from your yard
3 ball straight pins
darning needle
Steps:
Since these are all pretty little, it's easy to have all you need right there together. But you can also do them separately. The first one I did was the moss and the butterflies.

Make your butterflies. I did mine out of pretty scrap booking paper.

You can get moss at the Dollar Tree. Put a little bit of moss in the jar. Then you just need a tiny bit of twig from the yard. I put a tiny bit of hot glue on to secure the butterflies, bend them just a little and glue the butterflies (big and little) to the twig. Add the moss and you are ready to cap and hang.
Put just a tiny bit of glue on the bottle rim or the cork, and secure into the top.
To make the hanging thread, push the pin in the center of the cork, at a bit of an angle. This will keep it from just pulling out should it get yanked on. Just before you push it in all the way, fold the thread in half and make a knot, then slip it over the pin head and cinch it up good wish a second knot. Repeat this on the other side of the pin (top/bottom, or right left). You can leave this alone as long as you have that second knot. Once both sides are tied, push the pin head down. To secure it up to the top, I made knots all the way up, 7 for 18 inches. This keeps it from twisting, etc.

Bottle with Sand and Shells: For this one, get some play/craft sand at the dollar store. I used tan, but you can get black or gray or white as well. I had a big bag of shells, and just broke a few up in the baggie. I just scooped the bottle in the baggie so this one was pretty simple. Again, the the crochet thread the same way.

The Red White and Blue Bottle: This tiny bottle came from desperation and inspiration. I was inspired to do something patriotic, but didn't know where to get the stuff to go inside. Then it hit me - flowers

I had just celebrated the 4th of July and still have 3 faux carnations from the dollar store. I took just a few little clippings off of them and I had the layers I needed. First the red, then white, then blue. Once they were in, the stopper kept them from mixing up. Put the stopper on with the same way and you are golden.

Buttons: This was so much fun, I decided to make the thread the same colors as all or some of the buttons. This was a miniature salt shaker so the opening was bigger, allowing for more fun stuff inside.

I used fall colored tiny buttons, and found that they were perfect for almost fall crafts. You could use silver to match the cap, all white, all black, or any colors you wanted.

I had some Mexicali colored thread and it matched them for every color but orange!
Use the darning needle to thread the thread through the shaker holes, tying it up and threading little buttons on the way up. Done!

Faux gems and beads bottle: The last one might be a favorite, but it would be hard to pick. This one has faux gems, crystals, and beads in it. It's the same as the others, but the thread hanger is silver lamé thread. I wanted a bit of bling!

Well there you have it! My first fair 2019 submission with at least 4-5 to go!
Categories
Pages
More
Categories
Published by ThriftyFun.
© 1997-2022 by Cumuli, Inc. All Rights Reserved.
https://www.thriftyfun.com/Making-Tiny-Hanging-Glass-Jars.html