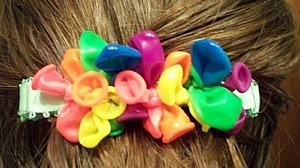 Surprise the birthday girl of any age with this handmade hair accessory that really pops.
Approximate Time: 15 minutes
Supplies:
hair clip (I used a 3 inch French barrette, but an alligator clip works, too)
ribbon (width and length to fit, to line barrette/clip with)
12 water balloons
hot glue
scissors
To heat seal, use a lighter or Fray Check or wood burner.
Instructions:
Heat glue gun.
If using a French barrette, open barrette, then carefully and simply pinch the ends and remove the metal "bone-like-shaped" piece of clip that is underneath the barrette to expose the length of the barrette on both sides of it.
Without using glue, line French barrette or alligator clip with ribbon to find the needed length of ribbon. Cut ribbon.
Heat-seal ribbon ends with either a lighter, cut with wood burner, or seal with Fray Check.
Make a line of hot glue on the underside of the French barrette or alligator clip.
Starting with the end, lay the ribbon lengthwise on top of the glue, pressing to secure. Repeat for the topside and other edge of the French barrette, or all along the alligator clip where there is exposed metal, pressing the ribbon onto the metal. (I added one more layer of ribbon to the topside of the ribbon-covered barrette for accent.)
Tie and knot once, the balloons side-by-side onto the top of the barrette or clip. My balloon order: pink, orange, yellow, green, blue, purple, etc.
Note: Alligator clips may only hold 6 knotted-on balloons.
Gift wrap and surprise the birthday girl with a handmade hair accessory that really pops.
Pictured is also a mini French barrette with 6 balloons and no ribbon lining.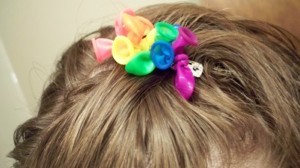 By Erin813 from Seffner, FL
Comments
April 28, 2010
0

found this helpful
My 27 year old daughter had one of those when she was a little girl.I thought it was so cute, I saved it to try to make one when if I was lucky enough to have granddaughters. -now I have 2 & 4 yr olds whose hair is just getting long enough. Thanks for the reminder & directions, I was sad to see those go out of style & am glad to see them back!
April 29, 2010
0

found this helpful
Thanks & sorry for not adding the source earlier!
I like '90s bows, but do find that alligator clips are easier to clip on, compared to french barrettes. (I added a cluster of balloons to an alligator clip- I'll probably post a picture in this subject sequence maybe soon, but you get the idea!)
This "bow" was originally called the "Baloony Bow" from an old Klutz brand book, titled "Braids & Bows." I think the book may be out of print now but amazon.com sells it used for about $10. Google search it for other sellers if you'd like!
April 30, 2010
0

found this helpful
oh- I made this headband with the balloons a couple months ago, too, with the balloon bow.