Six semicircles have been joined together to create a flower-like form or star anise spice garland. I have chosen decorative Japanese papers to make them.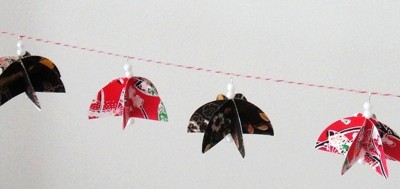 Approximate Time: 30 mins.
Supplies:
decorative Japanese papers
mini chain nose pliers
2 inch eye pins
2 inch circle punch
white pearly beads
glue stick
scissors
baker's twine (for garland)
Instructions:
Punch 3 circle shapes from decorative Japanese paper. Fold them in half and cut along the fold with scissors.
Fold semicircle in half again so that you have six folded semicircles.
Place two folded semicircles side by side and glue the flaps together. Add the remaining semicircles one at a time to complete the shape. Press all the joined sides together firmly.
Thread two pearly beads on to an eye pin. Push it carefully down the center of the decoration and thread another pearl on to an end. Using pliers, twist the other end of the pin into a loop to keep it in place.
Make several of the decorations and thread on to a length of baker's twine or thin wire to make a garland.
By Maricel from Fairfax, VA

Holiday tags strung together to make a garland.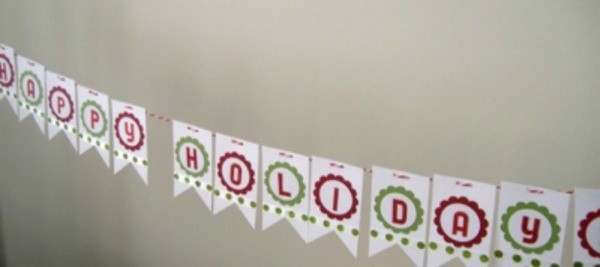 Approximate Time: 60 minutes
Supplies:
white, green, red cardstock
2 inch circle scallop punch
1 1/2 inch circle punch
holiday glitter ribbon
red glitter alphabet sticker
baker's twine
hole punch
scissors
ruler
craft knife
craft glue
double-sided adhesive
Instructions: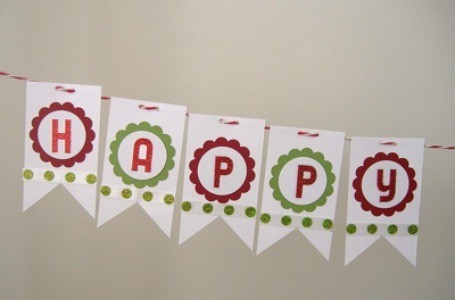 Cut 13 pieces of 2 1/4 x 4 inch rectangle from white cardstock to make tags.
With a craft knife and ruler, cut out a triangle shape from 1 inch middle to the bottom corners.
Then punch two holes on top of tag. Repeat the process for the remaining tags.
Use circle scallop punch to create 13 circle scallops from red and green cardstock. Punch 13 circle shapes from white cardstock.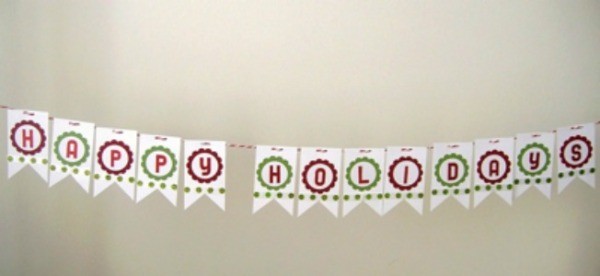 Layer white circles on to red and green circle scallops with adhesive. Adhere to tag then attach 'Happy Holidays' glitter stickers.
Glue ribbon on top corner of triangle. String the tags on to a length of baker's twine to make a garland.
By HellofromMhay from Fairfax, VA
There are many ways to count down to Christmas. There are songs about it. Retail has take a cue from the season and transformed it into a list of shopping deals for the holiday season. Each year at church, we take the month of December off from creating crafts about the children's bible stories and make Christmas themed crafts. The Sunday before the month of December, we usually make an Advent. This year, it was a paper chain.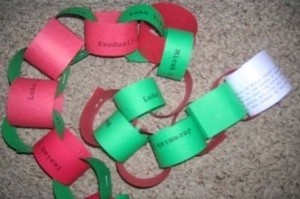 Read More...