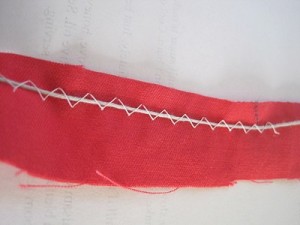 For all you sewers or wanna be sewers, have you ever tried to gather up something for a ruffle, only to have the thread break as you gather? This tip will save you lots of frustration. I simply zigzag over a heavy thread (carpet thread will work), making sure I leave tails at each end to pull. I set my zigzag on the longest and widest width possible.
When you sew the ruffle to whatever you are making, make sure you do not catch the cord in it, so you can pull it out later. If you have a 5/8 inch seam allowance, make sure the cord is laid INSIDE the seam allowance. This works especially great when you have to have yards of ruffling, for example, a dust ruffle.
Note: I have a Bernina machine that has a presser foot with a hole in it at the front that helps to guide the cord through, but you don't have to have that to do this method. It just makes it easier.
Source: I think I learned this when I worked for the Singer company. I have been using it ever since.
By Elaine from Belle Plaine, IA
Comments
April 19, 2011
0

found this helpful
Great reminder. Thanks...